Affirmative Action Resonates In Tain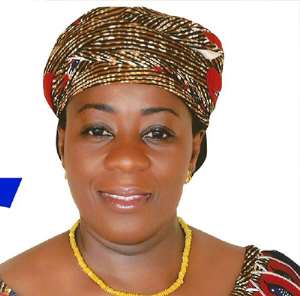 Mad. Charity Akua Foriwaa Dwommoh
Madam Charity Akua Foriwaa Dwommoh, a lecturer at the Faculty of Economics and Business Administration of the Catholic University College Of Ghana (Fiapre) in the Brong Ahafo Region   who has filed her nomination papers to contest the NPP primaries at Tain Constituency has promised that if the delegates do her the favour and give her the nod to contest the parliamentary seat, the NDC will come to understand that what men can do women can do better.
She said the time has come for Ghanaians to realize that women are capable of handling any position.  She said all over the world women have been able to handle sensitive positions to the admiration of their countrymen and that if she gets the nod she will shine and bring honour to the people of Tain in particular and Brong Ahafo in general
Madam Dwommoh who was speaking to newsmen after going through vetting at the Agyeiwaa Memorial Hotel in Techiman said gone were the days when the NDC thought Tain Constituency was a safe seat for them and that if she gets the nod, the dynamics of Tain  politics will change.
According to Madam Dwommoh, a lawyer by profession, the fact that the NDC has won the seat on two consecutive times should not mislead them into thinking that all is well because the people of Tain are also Ghanaians who are experiencing the current harsh economic realities. In her view, the people of Tain who overwhelmingly voted for the NDC thinking something good will come their ways have regretted and are crying for the NPP to come to power to rescue them.
She said when the Kufour administration built the Bui Dam the People of Tain thought the issue of 'dumsor' will be a thing of the past only for the Mahama administration to mismanage affairs which has led to the 'dumsor' that Ghana is experiencing today
She seized the opportunity to admonish her fellow contestants to eschew intemperate languages and go about their campaign in a clean manner so that after the primaries they could all move together to ensure the seat is grabbed from the NDC.
FROM Eric Bawah, Techiman