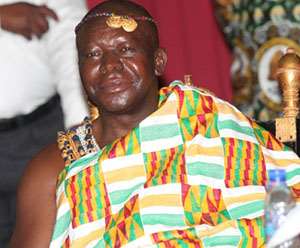 THE ASANTEHENE, Otumfuo Osei Tutu II, turns 65 today, Wednesday, May 6, 2015, and the day is expected to be marked with pomp and pageantry.
As usual, the Manhyia Palace, the official seat of the Asantehene, will be bubbling with a series of activities to mark the king's birthday.
The highlight of the birthday celebration will be a mega birthday party at the Manhyia Palace in the night to climax the day's merrymaking.
Known in private life as Barimma Kwaku Duah, Otumfuo ascended the Golden Stool in 1999, succeeding the late Otumfuo Opoku Ware II.
Otumfuo, who is much adored and loved by his subjects, including powerful paramount chiefs, always celebrates his birthday with a blast.
This important day usually commences with the Asante Monarch receiving well-wishes from all manner of people at the Manhyia Palace.
Also, gifts from various people are usually sent to him at the palace to mark the most important day in his life.
Representatives of religious groups including Christians, Muslims and traditionalists would usually storm the palace to pray for the king.
Top politicians, the clergy, traditional leaders and members of the royal family would often be at the palace to also celebrate with the king.
The main point of the celebration will be a birthday party for the king, which will be attended by a few selected dignitaries.
Otumfuo Osei Tutu II is the 16th Asante King, and his reign has helped to boost the image of the kingdom across the globe.
His reign as Asantehene has also brought massive transformation to Asanteman, especially in the education and health sectors.
Thousands of brilliant but needy Ghanaian students from different ethnic groups have so far climbed high the academic ladder due to the Asantehene's support.
The Otumfuo Education Fund, which the king set up after his enstoolment, has helped to reduce the financial burdens of several students.
He has also contributed immensely towards the provision of health to many people, notably those living in the hinterlands.
In addition, during his 16-year rule, Asanteman has experienced total peace as virtually all stool and land disputes in the kingdom have been resolved amicably.
FROM I.F. Joe Awuah Jnr., Kumasi