We'll Stop NDC Rigging – NPP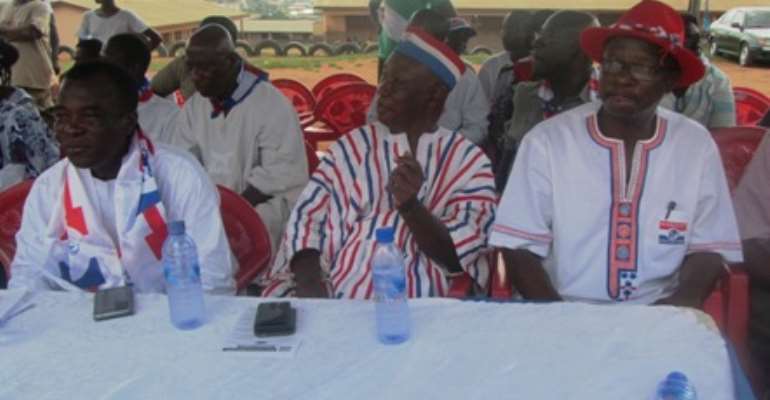 From left MP Kofi Frimpong, Bantama Chairman Kwabena Dwumor and Kwabre Chairman Osei Assibey
Flagbearer of the opposition New Patriotic Party (NPP), Nana Addo Dankwa Akufo-Addo has declared that the ruling National Democratic Congress (NDC) will not be allowed to rig the 2016 general elections.
According to him, the NPP has begun to set in motion all its election arsenals to closely monitor the activities of the NDC in order not to allow it to subvert the will of the people once again.
In a speech read on his behalf by the Bantama Member of Parliament (MP), Henry Kwabena Kokofu, at a fundraising and mini rally of Kwabre East Constituency of the NPP, the opposition leader said the NPP was on its way to victory to form the next government in 2017.
'But this will not come on a silver platter; we need to be united and work harder than before   to achieve our collective aim as a party. We ought to show to Ghanaians that we are ready for power, and this depends on us all,' Nana Addo noted.
He asserted that Ghanaians did not vote for the current situation where nothing appeared to be functioning properly with mismanagement, power crisis and economic hardship tearing people and businesses away.
'Ghana was better off under the NPP; NHIS was working under President Kufuor, and before we exited government in January 2009 there was no 'dumsor' in this country,' the NPP flagbearer posited.
Chairman of the Constituency, Osei Assibey Bonsu, in a welcome address, said the NPP could not afford to lose the 2016 elections and that every effort must be made to direct the wind of change in favour of the party.
'Those of us in the Kwabre East Constituency, are looking forward to winning not less than 90,000 votes - representing 85 percent of registered voters in this area. For us, one of the strategies is to target the Zongo areas in the constituency that went against NPP in the last elections,' he pointed out.
According to Chairman Assibey, this required money which accounted for the fundraising event to bag some cash to prosecute the party's election programmes in the area.
He lampooned President Mahama's statement to fix the power crisis, instead of managing it out, describing the statement as laughable and a joke of the century.
He urged the President to announce the proceeds of monies he and his appointees promised to deduct from their monthly salaries.
The well-attended event attracted several NPP parliamentary aspirants and MPs including Kofi Frimpong of the Kwabre East Constituency.
From Ernest Kofi Adu, Kumasi