Taxi driver destroys Ejisu police cells, beats up officers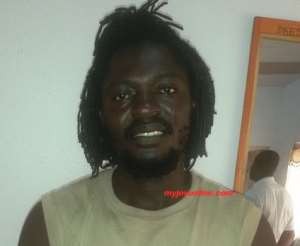 Police at Ejisu in the Ashanti Region have evacuated the police station cells after a 37-year old driver caused damage to the structure while resisting arrest for a traffic offence.
Akwasi Opoku in a fit of rage assaulted two police officers - Municipal Commander Chief Superintendent Laar Baman and another officer.
The dreadlocked driver's conduct attracted a crowd to the Ejisu Police Station on Sunday as he went berserk in the presence of officials who refrained from using force.
It all began after Opoku became the cause of heavy traffic at the Yaa Asantewaa Roundabout. His wrong parking caused obstruction in an already congested area on a market day.
He will not remove his vehicle when his attention was drawn to the offence and went on to challenge the officer to put him behind bars if he had the guts.
"The guy just went berserk; shaking as if he was possessed, invoking the spirit of Antoa god to kill any policeman that will touch his car. I realized there was trouble so I had to go the other way. So I persuaded him to drive to the Police station. When we got to the charge office, he commanded I put him in cells if I think he has committed any offence. I thought that was a joke," Chief. Supt. Baman recalled the bizarre incident.
The Municipal Commander was not spared as the terrorized police officers watched a raging Samson do his worst.
"He removed his shirt. There was television plugged to the socket; he went and pulled those things and hanged loose. He said stupid commander," Mr. Baman explained to Nhyira News.
"Without any provocation, he also crossed the counter and hit me whilst I was standing there. He threw a punch and hit my mouth."
Superintendent Baman recounted, "Strangely he went and held the cells' door and shook firmly until the iron beams came out of the concrete wall. That's a very strong man. Everybody was scared. People started running. He was throwing anything he sighted in the office."
He said the command has been compelled to temporarily suspend use of the cell.
"He has broken the cells' gate. The place is now not safe," he emphasised.
Nhyira News gathered that Opoku was put before the Ejisu Magistrate Court and was made to sign a bond to be of good behavior for two years.