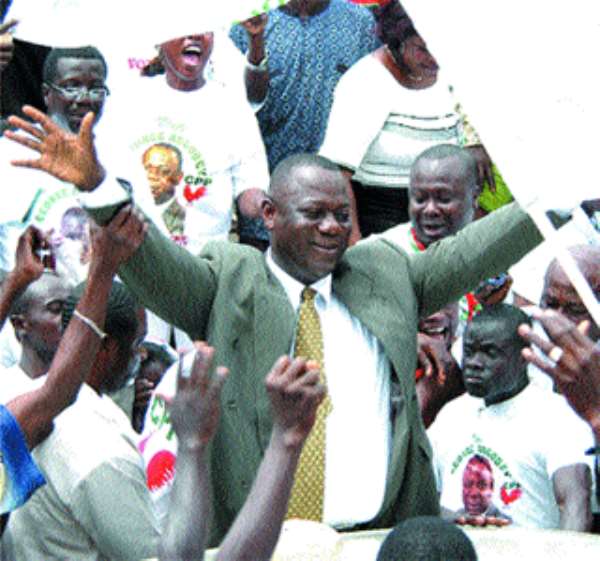 The running mate of the flagbearer of the Convention People's Party (CPP),Mr George Oposika Aggudey, will be selected from the Brong-Ahafo Region. According to a highly placed source at the campaign centre of the flagbearer, a number of ardent members of the party in the region have been short-listed for a screening exercise.
The source refused to name the people who had been identified for the slot but added that the name of the running mate would be made public before the first week of September.Asked whether religious , ethnic and other considerations would influence the selection of the candidate, the source said loyalty and competence would be the sole litmus test for the appointment of the vice-presidential candidate.
"The criteria for the selection of our flagbearer's running mate transcend religious and ethnic considerations ,"he said.The source said the CPP would not want to set a precedent in future in which running mates of its presidential candidates would be dictated by ethnic and religious influences.
It further explained that even though the issue of a running mate might enhance the chances of a party to clinch victory at the polls, " the stature and charisma of the flagbearer determines the trend and pattern of voting,"The source said even though the vice-presidential candidates of the National Democratic Congress (NDC) in the 1992 and 1996 elections were not selected according to their religious or tribal backgrounds, the party won the presidential election.
"The running mates of the NDC in the 1992 and 1996 , being the late Mr Kow Nkensen Arkaah and Professor John Atta Mills respectively, were all Fantes from the Central Region, but nevertheless, the electorate voted massively for the party, " it said.