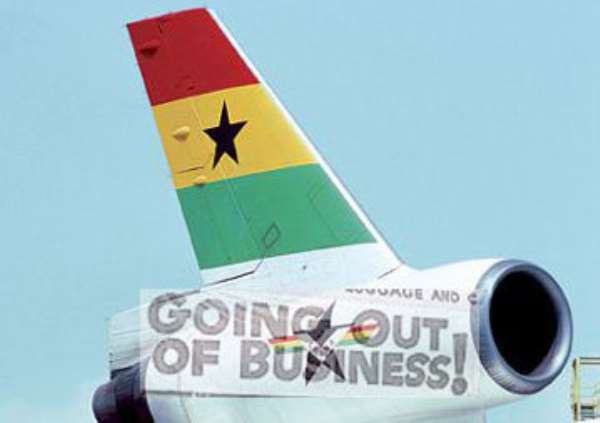 ... $150m debt, 5 aging planes, revolving door of upper management The warning signs were there - boldfaced and ominous - in the headlines of at least three West African newspapers chronicling the plight of Ghana Airways. In the months leading to June 15, the day Maryland state Lt. Gov. Michael S. Steele traveled to Ghana on a 10-day trade mission to Africa, The Ghanaian Chronicle, The Accra Mail and Africa News ran articles about the airline under such headlines as: "Ghana Air's Excess Luggage Saga," "Ghana Air's Sinking Image" and "Why Ghana Air is Collapsing." Nevertheless, Steele's delegation met with airline officials to discuss expanding the carrier's relationship with Maryland. After the meetings, Gov. Robert L. Ehrlich Jr. announced "great news for passengers" - Ghana Airways would increase direct service from Baltimore-Washington International Airport to Accra, Ghana's capital, and the airline was negotiating to relocate its U.S. headquarters from New York to Baltimore. Now, however, Ghana Airways is no longer flying. On July 27, the U.S. Transportation Department suspended all Ghana Airways flights to and from this country for alleged safety violations and for operating with an expired license. The order - the first-ever grounding of an international airline by U.S. officials - left more than 1,000 passengers temporarily stranded in Baltimore, New York and Ghana. The suspension came as a blow not only to Ghana, but also to the state officials who aggressively recruited the airline despite its well-publicized troubles. The carrier has made headlines in recent years for everything from overbooked flights and lost luggage to strikes, near-bankruptcy and mounting debt. London's Heathrow Airport seized one of its planes two years ago when the company failed to pay millions it owed to an airline parts producer. The state-owned airline, the official carrier of its West African nation, has been led by four chief executives in the past two years. Some legislators and aviation experts say the suspension raises questions about the state's courtship - which began under former Gov. Parris N. Glendening - of an airline with an unstable history. "They [Steele's delegation] made such a big deal about going over to Ghana," said Del. Peter Franchot, a Montgomery County Democrat and chairman of the Appropriations Subcommittee on Transportation. "But did anyone actually knock on the door of the airline and ask if it was still functioning?" Franchot said that although the recruitment of international carriers to BWI's underused international terminal has long been a bipartisan effort, the dealings with Ghana Airways an example of "jumping before looking." "This is a black eye not only on Ghana, but also on Maryland," Franchot said. State officials defended their efforts to expand international service from BWI, including to developing parts of the world. But they said they were concerned about the airline's recent troubles too. 'Huge accomplishment' "We see Africa as a growing target for Maryland companies, and I thought it [Ghana Airways' BWI service] was a huge accomplishment," said state Business and Economic Development Secretary Aris Melissaratos. "The disappointment is over the way the airline has run itself." Steele declined repeated requests from The Sun to answer questions about the airline's troubles. But he said in a written statement: "We are hopeful Ghana Airways will work through its issues with the federal government and reach a resolution in a timely manner. Once Ghana Airways gets those issues resolved and is in full compliance with Government regulations, we fully expect their service at BWI Airport to continue and expand." The recruiting of Ghana Airways arose from the state's desire to draw more carriers to BWI's $140 million international terminal, which has struggled to meet expectations since it opened in 1997. When Glendening first wooed Ghana Airways and Ireland's Aer Lingus to BWI in 2000, both airlines were praised as evidence that international service at BWI was beginning to thrive. A year later, the two airlines were suffering from serious financial and management problems. After the Sept. 11 terrorist attacks, Aer Lingus' business took such a hit that it pulled out of BWI (though it resumed service again last fall). Ghana Airways took a different route. Even on the verge of bankruptcy, it remained in the air until it was grounded last month - providing what BWI officials call an essential service to Maryland, home to one of the country's largest population of West African immigrants. In June, Steele cited the airline's expansion plans as a chief accomplishment of his $148,000 trade mission. "The added flights will boost tourism, trade and economic development opportunities for Maryland and for the African continent," Steele said. He estimated that the additional weekly flight would generate $16 million a year in economic activity for the state. A month later, the airline was grounded. Airport spokesman Jonathan Dean said that because BWI is not a regulatory body, the airport is obliged to accept the services of any airline that is certified to fly. He said BWI had not had any problems with Ghana Airways until last month, and airport officials declined to comment on whether they were owed any money. Stranded passengers In the meantime, Ghana Airways is busy issuing full refunds to its passengers, many of whom have complained about the airline's customer service immediately after the grounding. Stranded passengers at BWI were put up at a nearby Ramada Inn for more than a week. Many of these passengers accused Ghana Airways of leaving their luggage on the tarmac in the rain and then delivering the soaked bags to the hotel. When they called the airline to complain, they said, they were advised to fill out a baggage damage form at the airport. In Ghana, passengers trying to return to the United States became so enraged with the airline that they took a pilot hostage, releasing him only when police intervened.
A week after the grounding, federal transportation officials prodded Ghana Airways to charter planes to transport most of the marooned passengers. Still, the airline's response has raised concerns about its long-term viability.
Robert Johnson, a spokesman for the U.S. Transportation Department, said federal officials met with attorneys for Ghana Airways in Washington two weeks ago to offer a plan to lease an airplane to temporarily resume business.
"We have yet to see anything, so the ball is in their court," Johnson said late last week. Henry Van Eck, a North American spokesman for Ghana Airways, said he hoped that federal officials would lift the suspension, but he acknowledged that the airline has taken a hit. "Our bills still have to been paid, and we aren't selling any tickets, so you can imagine the situation we're in," Van Eck said. It's a situation made more challenging by the company's $150 million debt, its fleet of just five aging DC-10s and DC-9-51s (all more than 15 years old) and a revolving door of upper management. Although it might sound ominous, Ghana Airways' poor performance is not uncommon to airlines in developing countries, according to Steve Lott, business editor at Aviation Daily. "Larger airlines can track bags and rebook you in a matter of minutes, but smaller airlines in developing countries have nowhere near those types of resources - meaning that if something goes wrong, all the dominoes start to fall," Lott said. Which is why, in the case of Ghana Airways, some aviation experts say, Maryland officials should have used more caution. "BWI has been a very well-run airport over the years, but they have to be patient and careful with who they woo," said Aaron J. Gellman, director of the transportation center at Northwestern University. "Some airports have taken undue risks to put another notch on their belt, and I suspect that this might have been a case of that." John D. Porcari, secretary of transportation in the Glendening administration, disagreed. Porcari said the federal government encouraged the state to bring Ghana Airways to BWI after it reached the U.S.-Ghana Open Skies aviation agreement - a 2000 pact eliminating air service restrictions on Ghana. "We worked closely with the Department of Transportation to bring them here with the hopes and expectations that their management capability and financial stability would improve over time," Porcari said. "That doesn't always work out." "Whether Ghana Airways continues or not is not as important as maintaining the international service we have now at BWI, and increasing it in the future - and that will happen," he said. But even if Ghana Airways resumes service to BWI, the airline will do so with a sullied record that some legislators say should serve as a cautionary tale to state officials. "I don't know what direction [Ghana Airways] will go in, but even if things start to improve, it does not mean they are all the way home," said Sen. James E. DeGrange Sr., an Anne Arundel County Democrat. "They will always be on our watch list - at least until they have a proven track record of stability."