€6 million sanitation fund launched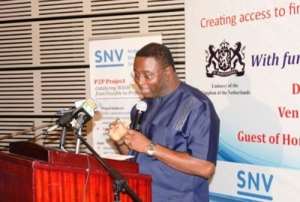 A six million euro sanitation financing project to address water and hygiene problems in the country has been launched in Accra.
Dubbed "Catalysing WASH from Possible to Profitable (P2P)", the project is to help households, Micro, Small and Medium Enterprises (MSMEs) to address the financial gap in the development and provision of water and sanitation facilities.
The six million euro revolving fund is an initiated by the Netherlands government in partnership p with Fidelity Bank.
Speaking at the launch, Minister of State at the presidency, Elvis Afriyie Ankrah commended the Dutch government to the timely initiative.
He recounted how in 2014, Ghana experienced cholera epidemic which claimed many lives due to open defecation and insanitary conditions across the country.
Mr. Afriyie Ankrah charged MMDAs not to grant building permits to any landlord without a toilet facility in their house.
"I don't see how anybody will build a house and decide that there will be no toilet. That's why I'm saying that you should not give anybody a building permit if they do not have toilet, that thing should not happen again." he stressed.
Mr. Afriyie Ankrah also called for a change in attitude and mindset concerning sanitation in the country.
For her part, Country Director of Netherlands Development Organization (SNV), Amanda Childress said the fund will be disbursed to over 3,000 households and micro, small and medium enterprises (MSMEs) in Ghana to enable them provide sanitary facilities.
Also, she noted that over 500 MSMEs in the WASH sector would benefit from pre and post loan business support to facilitate loan acquisition and repayment.
"Landlords, toilet pullers and citizens can afford to take a loan at a reasonable rate that would allow them to have a toilet in their house" she added.
Amanda Childress said the fund is expected to serve as a model for finance and private sector approach to water and sanitation financing in Ghana.