I had no knowledge of Steering Committee meeting -Kwabena Agyapong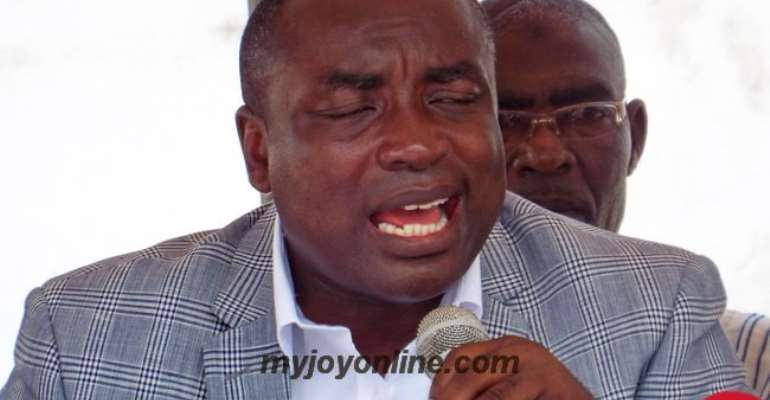 NPP General Secretary, Kwabena Agyapong, says he had no knowledge of a Steering Committee meeting held by a section of national officers earlier today.
"Tell them, I am eating fufu in Kumasi. I don't know anything about this meeting," he told Joy News Monday.
Kwabena Agyapong is questioning the need to organize a meeting so urgently that it could not wait for the return of the party chairman.
NPP First Vice Chairman Freddie Blay chaired a National Steering Committee meeting to discuss the vetting process for parliamentary aspirants.
The meeting which is supposed to be held at least once a week was last held two months ago.
Defending his decision to call the meeting, Freddie Blay maintained that he had "every authority in the absence of the national chairman" to organize the meeting.
"What we did is constitutional…. It is not a question of asking for somebody's consent before taking a decision", he explained.
Freddie Blay
He said nine members of the Steering Committee turned up, two more than what was needed to form a quorum.
In addition to the chairman and General Secretary, the National Women's Organiser was also absent.
In a further defence of the meeting, the party's National Organiser John Buodu said the meeting could still go on as long as the Chairman or First Vice Chairman was present.
He believes Paul Afoko who is in the UK is likely to be aware of the meeting. "I would be surprised if he doesn't know", he told Top Story's Evans Mensah.
He revealed that although the chairman had called for a meeting on 12 May 2015, it would have been "too late to look" into matters arising out of the vetting of parliamentary aspirants which is due to end 8 May.
This meeting was an emergency, he reiterated.
Story by Ghana|Myjoyonline|Edwin Appiah|[email protected]