Why Are The KNUST Lecturers Still Working; They Must Resign!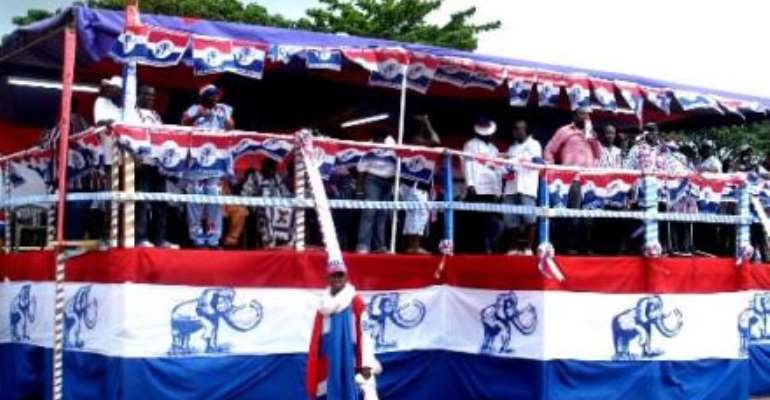 In my earlier post on this subject, I waded into the rather unfortunate decision of a group of lecturers of the Kwame Nkrumah University of Science and Technology (KNUST) to openly declare their support and vow to campaign for the New Patriotic Party (NPP) in the 2016 general elections. I sought to advance the argument that their action was not only morally wrong but also a slap on the constitution, since public officers are debarred from engaging in partisan politics while they remain in public office.
Well, as expected, I received several reactions from readers. There were those who obviously agreed with me because they felt my piece had some affinity with their political beliefs, and others who gave me the flak for daring to impugn the integrity of their political bed-fellows. Suffice it to say that I am not a card-bearing member of any political party; I belong to those who believe that all hands (whether tainted with NPP, NDC or CPP colours) must be on deck to rid the country of the quagmire of economic hardship and lawlessness it currently finds itself!Of course there were the fair-minded ones, including very senior lecturers in the country,who genuinely agreed or disagreed with my piece.
Those who genuinely disagreed with me cited several instances where some persons had held political office while in public office, reinforcing the view held by many that this has been an age-old practice. They mentioned, for example, that late President Mills, Dr Josiah Aryeh, Dr Kpessah White, Dr Clement Apaak, among several others, ventured into politics while in the academia, and so nothing prevents the KNUST lecturers from following suit.Really?
Surprising as it may seem, authorities of the KNUST even muddied the waters when they came out to say the formation of this group did not offend any of the university's rules and regulations. In the Daily Graphic report (Monday, April 27, 2015, page 18), authorities sought to give the group the needed go-ahead to use their public office, as lecturers, to advance the cause of a political party, while assuring the student population and, indeed, all Ghanaians that academic work on campus would not be affected by activities of this group. But thank God the KNUST is a public institution; and so it's not only governed by the university's rules and regulations! The 1992 Constitution remains the supreme law of the land, and all other laws are subject to its dictates!
You see, fortunately or unfortunately, I am not a learned friendto anybody to be making legal arguments. But if the fact that I attended HweehweePresby Primary School is, perhaps, not blurring my ability to have a firm grasp of the Queen's language, then I still maintain the action of this group of lecturers is illegal.
Article 284 of the 1992 Constitution states; "a public officer shall not put himself in a position where his personal interest conflicts or is likely to conflict with the performance of the functions of his office." Their action triggers a clear conflict of interest situation since they are using their position to advance the cause of a political party for their own benefit.
Also, Section 26(2) of the Political Parties Act (2000), Act 574, puts it succinctly that; "a public officer shall not engage in canvassing in support of a political party or candidate standing for a public election." So, am I not right in suggesting to this group of lecturers, who are public officers, that their open declaration of support for the NPP is a clear violation of these important provisions in the constitution? And oh, just in case you are wondering whether lecturers are public officers, kindly check Article 190(1) of the 1992 Constitution for the full list of public services.
These lecturers are definitely not above the law; and they cannot say that some colleagues of theirs ventured into politics so they should be allowed to do same. Indeed, the fact that some persons in a community may have committed certain offences and might have escaped the long-arm of the law is not a justification for a cross-section of people in the same community to engage in similar acts!But even in the examples cited so far, I am yet to come across those who used their office, as lecturers, to further the interest of a political party. At worst, they all supported these political parties in their individual capacities, just as this group has been doing until their recent decision to come public.
But I know these lecturers are unperturbed (if not adamant) by the huge public backlash and several calls on them to rescind their decision. However, I believe they are sensitive enough to draw useful lessons from what happened to the Electoral Commission in the botched district level elections. Please don't wait for a certain Benjamin Mensah to compel you to do the right thing!
Dear lecturers, I think it is about time you did the honourable thing by apologising to all Ghanaians for bringing your public office into disrepute, so you could have the peace of mind to do your work and vote for your favourite political parties and candidates in the 2016 elections! After all, to err is human…But short of that, then you must heed my earlier call on you to resign and join your favourite political parties on the campaign platform!
Email: [email protected]
Blog: aasirrichard.wordpress.com
(The writer is a public relations and communications professional)