MET Capital Group launches 'the Wealth Scheme'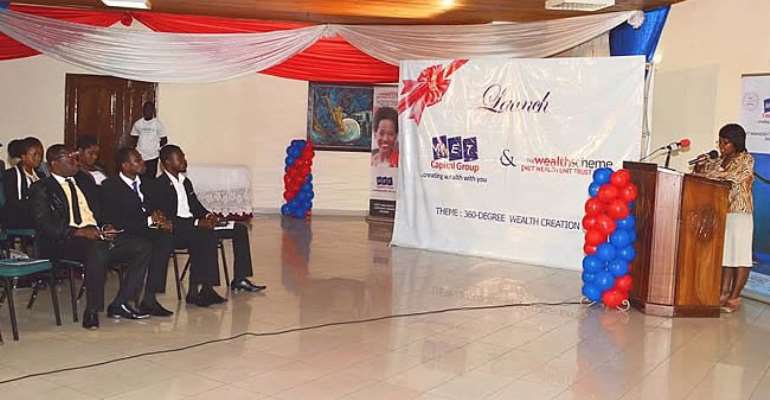 Investment Banking firm, MET Capital Group Limited has launched the Wealth Unit Trust Scheme to provide high returns with minimal risk to prospective investors.
Also referred to as "the Wealth Scheme", it is a medium to long-term collective investment scheme for both retail and corporate investors seeking well diversified growth investment portfolios.This is because funds in the pool are invested in both money market instruments and high quality equities listed on the Ghana Stock Exchange to provide growth in investment, income and liquidity in the medium term.
In the long term, it seeks to provide a foundation for raising seed capital for onward acquisition shelter for clients as the company prepares to introduce its E-Housing project on the market.
The Wealth Scheme is an open-ended unit trust which is initially offering a minimum of 1,000,000 units at 10Gp each. The minimum number of units that can be purchased during the IPO is 200 units at GH¢20.00.
The Initial Public Offer (IPO) of the scheme was launched today on Thursday, April 20, 2015. Speaking to JOY BUSINESS at the launch, the Chief Executive, Eugene Asiamah Boadi explained the wealth scheme is an innovative product that is also targeting low-income earners.
"Individuals have the opportunity to invest little sums of funds in a pool which is also onward invested by the fund manager which in this case is MET capital. Within this IPO period, an individual, investor or a corporate institution that wants to invest needs a minimum of 20 Ghana cedis. Now, ordinarily if you have an amount as little as 20 Ghana cedis, you'll find it a bit difficult buying Treasury Bills with it, so we're giving people the opportunity to invest their little sums into a pool to be managed in a number of investment portfolios to give them returns that would not have been possible if they had invested in treasury bills or had kept in their bank accounts" he said.
The offer runs till Wednesday May 20, 2015. Prospective investors can however still subscribe to the scheme after the offer period - only at a relatively higher price.