Eugene Ansah: Ghanaian starlet mourns deceased Lokeren team-mate after player collapse and died during a game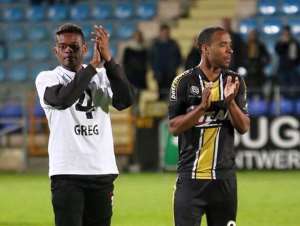 Eugene Ansah with deceased Lokeren team-mate Gregory Mertens
By El Akyereko Frimpong
Ghanaian youth international forward Eugene Ansah is mourning the death of Lokeren player Grégory Mertens who collapsed and died during a lower-tier game in Belgium. 
The midfielder collapsed and died while playing for Lokeren's second string side, causing emotional mood in Belgium and the rest of Europe.
Ansah who spent most of the season playing along Mertens in the Team B game took to Facebook to express his sad mood, drawing fans to comment.
"Words can't describe this feeling Grégory Mertens we missing [you] already buddy but you are in the good hands I know," he posted on his Facebook wall.
Games in the on-going Belgian Pro League Play-offs will observe a minute silence for the player as a sign of respect.