Forgive Me! -Suicide Priest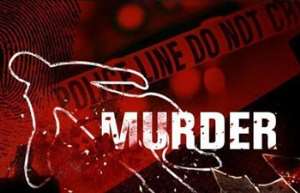 The leadership of the Catholic Church in Navrongo is tight-lipped over the bizarre death of one of its Presentation Brothers, Brother Sebastian Dery.
The lifeless body of Brother Sebastian Dery, 28, was found on Wednesday, April 29, 2015 at about 6:30 am in his room at the Presentation Brothers quarters in Navrongo, Upper East Region. The body has since been deposited at the Navrongo War Memorial Hospital as police continue with their investigation.
Brother Dery, nice and easy-going, according to parish members, is reported to have committed suicide for which reason many parish members as well as the entire Navrongo-Bolgatanga diocese are still living in shock over the incident, at the time of filing this report.
Some of his colleagues, who spoke to DAILY GUIDE at Navrongo on condition of anonymity, said they were yet to come to terms with the death of Brother Dery. One of them disclosed that the deceased did not show any sign of depression neither did he show any sign of sickness on Tuesday night when they were together.
Brother Sebastian Dery is said to have left behind a 'suicide note' asking for forgiveness from Emmanuel, which has also left people wondering if the 'Emmanuel' was referring to Jesus Christ, a friend, colleague or a relative. The suicide note did not say why he had ended his life.
His Facebook account, which was on even as late as Thursday, April 30, had been closed down on Friday, May 1, 2015, probably to prevent people from linking some of his comments to the suicide.
In 2014 a Catholic priest, Rev Father Kevin Abakisi, 31, also allegedly committed suicide in Tamale. The case of the late Brother Sebastian Dery comes just about a year after the Tamale incident.
The Catholic Church is one of the most organised churches in Ghana and the world in general, with lots of structures and programmes meant to make the members better citizens, lessen the pain of the heavily laboured and also get members of the church to be in tune with the teachings of Jesus Christ.
With these two supposed suicide cases mentioned above, DAILY GUIDE asked the opinion of some Catholics and members of the public as to what might have prompted these noble men to choose suicide as the best remedy to whatever problems they might have been facing.
Almost all respondents asked the Catholic Church and Christians in general to continue praying for their leaders, especially the pastors whose duty it is to shepherd the flock through the path of righteousness and spiritual deliverance to the detriment of their (religious leaders') own safety and comfort.
From: Ebo Bruce-Quansah, Navrongo