Zongo Midwife Must Undergo Sensitivity Training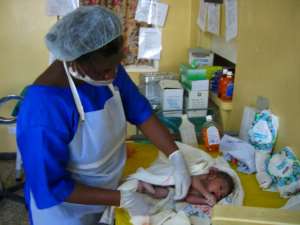 Reports that a 25-year-old pregnant woman in labor was callously turned away by a nurse-midwife because the former had failed to shave her pubic hair prior to going into labor and her arrival at the Koforidua Zongo Health Center is more than horrifying. It is criminally barbaric! (See "Woman In Labor Turned Away For Not Shaving Private Parts" MyJoyOnline.com / Ghanaweb.com 4/30/15). As of this writing, the Municipal Director of Health for New Juaben, Dr. Kwaku Senaya, was reported to have said that the nurse-midwife in question had denied the accusation. She must therefore be acutely aware that such behavior is grossly inappropriate for any healthcare professional of her training and caliber.
Dr. Senaya, according to at least one news report, has ordered an investigation into the matter. For me, however, what needs prompt answering regards whether, indeed, the alleged pregnant woman, Ms. Bushira Safinau, was actually at the health center on the day and time in question; but even more importantly, the identity of the nurse-midwife on duty at the time. And also, just why Ms. Safinau would attempt to make her way back home from the health center in such a dire maternal health condition if she had not been refused service, as claimed by media reports. We are told that the patient delivered in public on the way back home, in compliance with the criminally primitive directive from the unnamed nurse-midwife alleged to have been on duty at the time, to go back home and shave her netherparts and then come back for service.
Well, I am inclined to agree with critics who note that such flagrant professional dereliction of duty could easily have engendered labor-related complications that could well have resulted in the death of both mother and baby. As a professionally trained nurse-midwife, the yet-to-be-identified criminal suspect - for that is what she is at this point - had an obligation to properly prepare Ms. Safinau for delivery. And shaving her private parts, if it was that necessary, was an integral part of the job description of the alleged nurse-midwife. And if this allegation turns out to be valid, then the entire procedure for training the country's nurse-midwives, and other paramedical professionals in general, ought to be thoroughly reviewed. For it is quite certain that this is not an isolated incident.
In recent months, remarkable instances of nurses of hospital maternity wards callously turning away women in heavy labor have been reported by the media for various reasons, almost none of which positively reflected on both the quality of the country's healthcare system as well as the level of professionalism of those entrusted with the operation of the same. One way of addressing such a basic issue of both general healthcare delivery and personal hygiene, as it clearly seems to have been the case in this instance, is for both local and national healthcare authorities to launch a systematic and sustained maternal-health education campaign on radio, television and on health-oriented Internet websites around the nation.
Brutally subjecting Ms. Safinau to the sort of gross ill-treatment, as has been widely alleged by the media, is the least most effective way of going at it. Cultural awareness education and training ought to be incorporated into the curricula packages of all nursing-training colleges in the country. And as an immediate stop-gap measure, all nurses and other paramedical personnel caught in such web of gross professional insensitivity must be ordered to undergo a specified period of professional-sensitivity training and be taught lessons on ethical conduct.
In extreme instances of proven professional misconduct, or sensitivity deficits, the personnel concerned ought to be meted deterrent disciplinary sanctions including suspension and temporary withdrawal of professional licenses; and where appropriate, summary dismissal from practicing as bona fide members of their profession which has been so flagrantly and criminally dishonored. Sanctions could even include vigorous prosecution and imprisonment, where deemed appropriate.
As Ghanaian democracy steadily advances and our level of social responsibility and civic awareness become more sophisticated than they are right now, it is highly likely that the Government will be swamped with a flood of malpractice lawsuits, in much the same way as the regime of judgment debts. And when that happens, even as the judgment-debt regime has done to the development of our national economy, the malpractice lawsuits could well become even far more economically endangering than the present regime of judgment debts.
By Kwame Okoampa-Ahoofe, Jr., Ph.D.
Garden City, New York
April 30, 2015
E-mail: [email protected]