SLTF And Gn Bank In PPP Agreement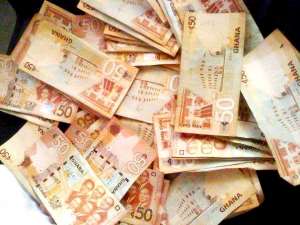 'It is normal getting a loan everywhere, but what is not normal is taking a loan and not paying back,' ------ Dr. Paa Kwesi Nduom
The Students Loans Trust Fund (SLTF), an agency under the Ministry of Education, has entered into a Public-Private-Partnership (PPP) agreement with the GN Bank, a fully owned Ghanaian financial institution under the Groupe Nduom conglomerate.
Under a Memorandum of Understanding signed between the two at a short but impressive ceremony held at the Coconut Grove Regency Hotel, a hospitality facility within the Groupe Nduom conglomerate, on Wednesday April 22, 2015, the partnership is meant to help make the access and repayment of the SLTF loans convenient and easy for students in tertiary institutions through GN Bank.
GN Bank has over 100 branches throughout the whole country some situated in the remotest parts which therefore makes the partnership a sensible one for all parties involved. By this arrangement GN Bank will be joining banks like the National Investment Bank, Ecobank, and GCB Bank to receive student's loan repayments nationwide.
The ceremony was attended by a cross section of many stakeholders including student leaders, employers from the public and private sectors, SMEs, film stars, the media and university lecturers. Among some of the personalities present were Mr. Stephen Baffoe, Deputy Administrator, Ghana Education Trust Fund (GETFund), Mr. Paschal Zuyeri, the Public Relations Officer of SLTF, Mr. Ozfo K Ankonam Quayson, Deputy Chief Fire Officer, Rev. Father David Amissah of the Catholic Church, Mr. Patrick Anumel, Chief Executive Officer of GN Bank, Mr. Charles Nimako, Board Member, GN Bank and Mr. Richmond Lamptey of Groupe Nduom. Dignitaries who addressed the gathering included Mrs. Sheila Naah-Boamah, Chief Executive Officer of SLTF, Dr. Paa Kwesi Nduom, Board Chair, GN Bank, Mrs. Wilhelmina Asamoah, Director Tertiary, Ministry of Education, who represented Prof. Jane Naana Opoku-Agyemang, the Minister of Education and Mr. Andy Osei, Board Chair of SLTF.
In her address, Mrs. Naah-Boamah reiterated some of the several benefits to all the relevant stakeholders. Key amongst them were an expanded access to pay points, access to the various media channels to aggressively sensitize and promote the subject of students loan repayment amongst the citizens and collaborations that promote and support other equally important student's related programs and activities. She indicated that all Ghanaian tertiary students studying in Ghana qualify to take the students loan. The students' loan is available to the public and private tertiary institutions, private nursing training institutions and both private and public Colleges of Education. The students' loan can also be accessed by many other tertiary institutions across the country including the Ghana Institute of Languages, Ghana Institute of Journalism, NAFTI, GIMPA, GISM, and a host of others.
Mrs. Naah-Boamah said that currently there are 112 tertiary institutions on the portfolio of SLTF. The Students Loan is a social intervention that still attracts an interest rate of only 12% in an era when even the Bank of Ghana base rate is 21%. It is the only facility that entitles its beneficiaries to commerce repayment two years after they have completed school; furthermore, it is a facility that is continuously exploring innovative ways to make its repayment comfortable and convenient. In the last 9 years the Students Loan Trust Fund alone has supported over 68,000 Ghanaian students with a student's loan. Of these amounts some 7% have completed repaying their loans, another 50% is in their repayment stage and the rest are still been trained or are not yet due.
Mrs Naah-Boamah stressed that the students after enjoying the facility must take their repayment obligations to the fund seriously. Repaying one's loan is not only because it's a legal contract but also because it is a moral and social responsibility with the tax payers in Ghana. It is believed that a repayment partnership like what has been contracted with GN Bank would increase the repayment options available to beneficiaries of the Students Loan.
Taking his turn, Dr. Papa Kwesi Nduom, noted that the loan facility would help parents who find it difficult to pay for their wards fees and other educational expenses. He explained that the GN Bank-SLTF partnership would make it easy for the repayment of loans by students. That, he contended, was because of the visibility of GN Bank across the length and breadth of the country which would make it convenient for the students wherever they may find themselves after their education to pay back their loans. GN Bank, he disclosed, currently can boast of 105 branches in the country, saying repayment of the loan through GN Bank everywhere in Ghana will not be a problem.
Dr. Nduom indicated that it is normal to access loan everywhere in the world. However, what is not normal was taking a loan and not paying back. In his opinion, anyone who takes loan and pays back is a disciplined person. That, he said, would give the person the moral right to walk with his or her head held up high. He advised SLTF to ensure that it makes it easier for students to pay back loan facilities they apply from them. 'It is important to offer students the easiest way to pay for their loans,' he pointed out.
Launching the partnership on behalf of the Minister of Education, Prof. Naana Jane Opoku Agyemang, Mrs. Wihelmina Asamoah, Director in charge of Tertiary Education was of full praise for the SLTF-GN Bank partnership expressing the hope that it would help the situation where students find it difficult to repay their loans. She disclosed that with the inclusion of GN Bank, the repayment points across the country would increase from 251 to 356. She, however, advised GN Bank to give students the needed assistance whenever they visit any of the branches across the country to conduct the business of repaying their loans.She expressed the sincere hope that the inclusion of GN Bank to the list of repayment options will be useful to beneficiaries and employers irrespective of their locations.She also made the point that the Students Loan was important in reducing barriers to attaining tertiary education for Ghanaians. Stakeholders must therefore be interested in ensuring its perpetual existence. Stakeholders must play a role in promoting the subject of students' loans repayment, she added.
By Kwame Gyasi