BOST Denies Making Losses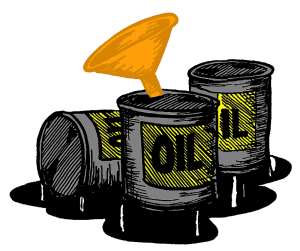 Managing Director of the Bulk Oil Storage and Transportation (BOST) Company Limited, Kingsley Kwame Awuah has refuted allegations of gross mismanagement and profligate expenditure which have caused the company about $55 million.
Speaking at a press conference in Accra yesterday, Mr Awuah said an audit report by Ernst & Young which had been leaked into the public domain by malicious individuals, who are only seeking to paint a bad picture of BOST to the public, was only interim, adding that investigations were still ongoing.
According to him, it would be premature to indict any employee at this stage until investigations are done with. However, he said any employee of BOST who would be found to have condoned and connived with any bulk distribution company (BDC) to cause any loss to the company would be severely punished.
He said BOST owed some BDCs while other accounts showed a negative balance. It was in that regard that BOST wrote to its Internal Audit, Finance, Operations and Commercial departments who were working on the issues.
Further explaining, the MD said before he took over as MD, there was never reconciliation between BOST's physical stocks with that of the balance books of BDCs, hence the need for the investigations.
Consequently, BOST signed an agreement with TSL, a Ghanaian subsidiary of a Nigerian-owned company, over a 12-month pilot deal to operate, maintain and manage BOST's petroleum terminals in the country.
But Chief Executive Officer of the chamber, Senyo Hosi said the outsourcing of the facilities to TSL was a blatant disregard of Ghana's Public Procurement Act 2003 (Act 663) in sole sourcing Nigerian company to the exclusion of other competitors.
Giving an account of what transpired under previous management, he said in 2010, BOST's throughput volumes stood at 975,491 metric tonnes with losses in the region of GH¢3,869,086, while in 2011, throughput volumes were 1,201,871 metric tonnes and a loss of GH¢14,295,548.
In 2012, with 1.7 million metric tonnes, BOST registered losses to the tune of GH¢10,853,524 while in 2013, it had 902, 681 metric tonnes of stocks with losses of GH¢45,586,423.
In 2014, with throughput volumes of 706,368, BOST was able to record gains of GH¢8,148,637. He said the same discipline that helped to earn the company gains would be maintained this year.
Touching on the termination of the appointment of Albert Mantey, chairman of the senior staff association, he said that was being reviewed, adding that he would be restored soon after the administrative processes have been followed.
By Samuel Boadi
[email protected]