Congo Republic burns its entire stockpile of seized ivory
Burning ceremony takes place a day before announcement of African strategy for tackling wildlife crime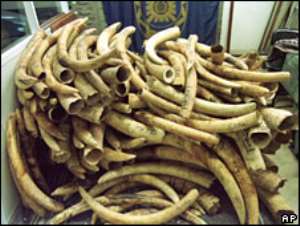 Brazzaville - The Government of Congo today incinerated nearly five tons of poached ivory, fuelled by seized timber, in a strong demonstration of Africa's opposition to wildlife crime.
"This new evil is continuing to gain ground," said Henri Djombo, Congo's Minister of Forest Economy and Sustainable Development. Wildlife crime is "eroding and impoverishing the continent's biological resources from a social, economic and environmental standpoint."
The ceremony took place a day before the announcement of the first pan-African strategy to combat illicit trade in flora and fauna. A first strategy and action plan will be presented to the June 2015 African Union Summit to be held in Johannesburg, South Africa. The conference was organized by the Government of Congo, with support from the African Union (AU), the United Nations and other partners.
"This conference is Africa-driven. It complements earlier and ongoing initiatives and processes and shows strong determination to deal with this issue. With strong political will, regional cooperation and sustainable partnerships, the continent will be in a position to unite and act before it is too late," said Tumusiime Rhoda Peace, Commissioner of the African Union.
Wildlife trafficking devastates biodiversity and ecosystems, threatening the supply of food and freshwater and eroding livelihoods for millions of people in Africa. It also creates insecurity, fuelling conflicts and corruption, depriving countries of their assets, compromising the rule of law and dividing societies. Poaching and trafficking pose a direct threat to sustainable development efforts in Africa and elsewhere.
"Today's destruction of confiscated ivory by the Congo will attract global, regional and national attention and should serve to raise further public awareness about the devastating impacts of illegal ivory trade and wildlife trafficking, and about the Congo's, and the global community's, collective determination to put an end to it." said John E. Scanlon, Secretary-General of the Convention on International Trade in Endangered Species of Wild Fauna and Flora (CITES).
"Wildlife crime is effectively robbing people's means of subsistence and countries' economic wealth on a massive scale. As we pave the way for the Sustainable Development Goals, we need to make sure protecting biodiversity remains high on the agenda. The well-being of present and future generations depends on it," said Nik Sekhran, the Director of Sustainable Development at UNDP.
"This burn is a symbolic statement from Africa that all ivory markets must be destroyed. Elephants are vital ecologically, a major source of livelihoods for local peoples, particularly in the tourism industry, and symbols for the culture of Africa," said John Robinson, WCS Executive Vice President for Conservation and Science.