No conditionalities attached to IMF bailout - Veep insists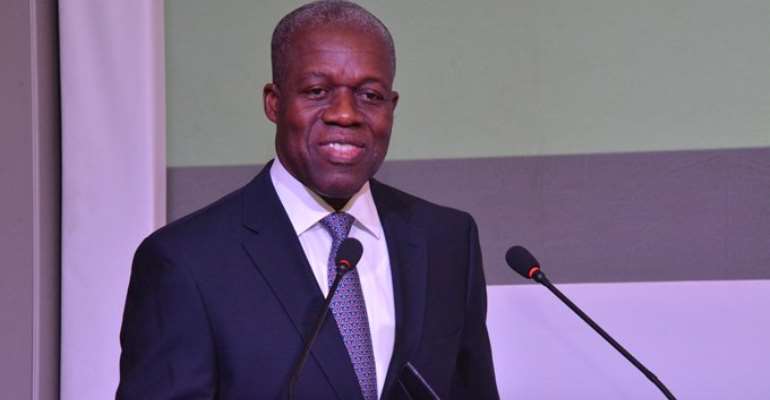 Vice President Paa Kwasi Amissah-Arthur has insisted there are no conditions attached to Ghana's IMF bailout, insisting "the IMF does not have conditionalities any longer".
According to the Vice President, the agreement reached between the country and the IMF on economic reforms are in line, and not in conflict with Government's own strategies to stabilize the economy.
Some economists have raised alarms over the IMF's conditions accompanying a bailout of $940 million granted to Ghana.
There are fears that the Fund's conditions for public sector employment rationalization will lead to job cuts. There are also fears of further reduction in government expenditure.
Addressing these concerns at the Standard Chartered Bank Africa Summit in Accra Thursday, the Vice President made it clear that what many are calling IMF conditionalities, are Government's own proposals on how to deal with the current economic challenges confronting the country.
Government, in recent times has resorted to commercial borrowing, as opposed to much cheaper institutional sources.
Finance Minister, Seth Tekper said Government has had to obtain more commercial loans, against its will, due to dwindling financial support from donors because of the country's middle-income status.
This, the Finance Minister says, is affecting the State's ability to spend on social projects, which may not pay back the loans.
"This means that we may have to find ourselves using concessional borrowing which must be used for social projects, for commercial projects like oil and gas, which can pay for themselves," Mr Seth Tekper said.
Government is optimistic that its current relationship with the IMF will attract an influx of investments into the country. That optimism, notwithstanding, the Standard Chartered Bank boss on Macro economics, Marios Maratheftis is cautioning against a sudden influx of investors, as the economy may not be able to absorb them.
According to him, a gradual, steady flow will be much better for the economy. He charged Government to rather concentrate on building infrastructure around the economy which will secure the flow of funds and investment.
The Stanchart Africa Summit brought together Standard Chartered's clients, business leaders, policy makers, the media and Standard Chartered's award winning Global Research Team to share valuable market insights and expert opinions on the selected discussion points.