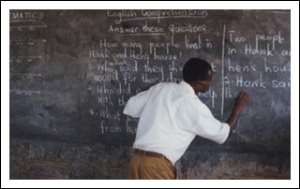 There is a shortage of 16,000 teachers in basic and senior secondary schools throughout the country, according to a recent evaluation exercise by the Ghana Education Servic(GES). The three northern regions are the most affected accounting for more than 50 per cent of the 16,000 shortfall of teachers.
The evaluation indicated that there has to be about 43,000 teachers at post in basic and senior secondary schools.
The Director of the National Service Scheme (NSS), Mr Boniface Gambilla, who made this known in Accra, said but for the support of national service personnel posted to some of the schools, the situation would have been worse.
He was briefing the press to announce Ghana's hosting of the seventh biennial conference of the International Association for National Youth Service (IANYS), scheduled to take place in Accra from August 23 to 27, 2004. Mr Gambilla said about 17 per cent or 2,400 national service personnel were posted to teach every year, especially in rural communities.
He said since the inception of the scheme in 1973, a total of 367,618 personnel had taken part in the programme and served mostly in the education, health and environment sectors.Mr Gambilla announced that from September this year, the scheme, in collaboration with the Ministry of Local Government and Rural Development, would start an informal community volunteer programme to promote development in the communities.
Under the programme, district assemblies were expected to come out with development initiatives after which the youth in the various communities would be mobilised and given orientation to execute those initiatives. He said volunteers under the programme would not require any formal academic qualification and would be paid a "pocket money" of ¢200,000 monthly.
He said there were also plans to train some local volunteers as enrolled nurses with the aim of posting them to serve in clinics in rural areas which lacked nurses.
Mr Gambilla said currently, about 1,000 applicants were being screened to undertake this year's formal volunteer programme, which was introduced about two years ago.
He said the nation would save about ¢10 billion for using volunteer national service personnel as staff for the 28 newly created district assemblies.
The NSS director said the essence of the volunteer programme was to instil the spirit of voluntarism and patriotism in the youth.On the IANYS conference, Mr Gambilla expressed the hope that it would bring economic and social benefits to the country by way of tourism inflow and sharing of experiences and expertise on international voluntarism.