Review disability act now - Professor Wellington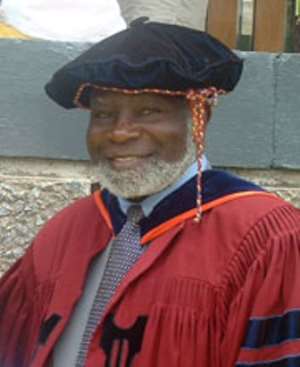 Accra, April 29, GNA - Professor Nii-Adziri Wellington, professor of Architecture and Heritage on Wednesday raised concerns over gaps in Ghana's disability act and urged government to revise it now to conform to international standards and ensure inclusiveness in society.
He said persons with disability, particularly autistic persons, face a lot of barriers in the society which calls for a law to comprehensively protect them and address their social and economic needs.
Prof Wellington made the call during an inaugural lecture organised by Ghana Academy of Arts and Sciences (GAAS) on the theme: 'Architecture for autism - a technical response with mind and heart to a dire human need'.
The lecturer outlined how the topic evolved following a family request for a design of a special residential facility to manage and take care of a young adult member of a family with an extreme condition of an autism spectrum disorders.
He said the condition that characterises the member is found to be a harrowing experience and there is a manifestation of multifaceted forms of disabilities.
The disabilities ranged from the medically induced seizures and self-destructive tendencies to hyper-sensitivity to physically environmental sensory inputs.
Prof Wellington said though there is no statistics about the condition of autism in the country, there are about five centres located in Accra, while the situation is also said to be prevalent among males.
Autism spectrum disorders are characterised by social-interaction difficulties, communication challenges and a tendency to engage in repetitive behaviors.
However, symptoms and their severity vary widely, according to medical experts.
Prof Wellington said the symptoms are very important to allow architects to develop and design the right buildings to manage the condition of autistic persons.
He called on the government to press on the metropolitan, municipal and district assemblies to abide by building regulations and put up structures that would respond to the needs of persons with disability.
Prof Akilkpa Sawyer, President of GAAS described the lecture as stimulating, saying the presentation demonstrated that architecture goes beyond design and building.
He said it meant the application of science and technology to improve the living environment of human conditions.
GNA