Crowds prevent Gabon opposition leader's body being flown home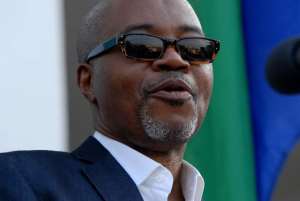 Gabon's late main opposition leader Andre Mba Obame on August 25, 2011 during a political meeting in Libreville. By Xavier Bourgois (AFP/File)
Libreville (AFP) - Gabonese authorities were unable Wednesday to transfer the body of longtime opposition figure Andre Mba Obame from Libreville to his stronghold in the north due to the huge crowd of supporters thronging the capital, a source close to the presidency said.
Obame's remains were due to have been transferred by plane to the town Oyem in his native region of Woleu-Ntem, where hundreds of mourners awaited the coffin.
However at Libreville the security forces attempted to prevent crowds from reaching the airport tarmac "for obvious security reasons," the source told AFP.
"The crowds didn't wish to comply and the body was returned" to Obame's home, he added.
Obame, who was 57 and had been plagued by serious health problems, died in Cameroon on April 12, five years after mounting a major challenge to Gabon's President Ali Bongo Ondimba in elections in 2009.
A powerful former interior minister, Mba Obame joined the opposition after the death of Omar Bongo Ondimba, who had been in power for 41 years and was father of current President Ali Bongo Ondimba.
Mba Obame left Gabon in 2011 after declaring himself elected head of state, refusing to recognise Bongo's 2009 election victory.
After Mba Obame became sick, some of his supporters claimed he had been poisoned, pointing fingers at Bongo's cabinet director, Maixent Accrombessi, who comes from Benin but has taken Gabonese nationality.
When he died, opposition supporters rampaged through the capital, setting fire to cars and buildings, including Benin's embassy.
On Thursday, after the failed attempt to fly Obame's body out of the capital, disappointed supporters in his native town gathered for an overnight vigil at the family home.
Some opposition supporters in Oyem expressed their anger by torching several market stalls, an AFP reporter saw.
Others threw rocks at public buildings in the northern town, prompting police to respond with batons and stun grenades. At least three people were arrested.