Female Ministers pay tribute to Theodosia Okoh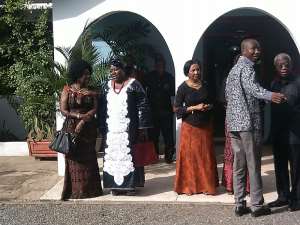 Accra, April 29, GNA - Some female Ministers of States have paid tribute to the late Mrs Theodosia Salome Okoh, the designer of the National Flag who died on April 19, for championing the role of women as pace-setters.
Mrs Okoh, born on June 13, 1922 was a Ghanaian stateswoman, teacher and artist popularly known for designing the Ghana flag in 1957.
She also played a leading role in hockey development in the country.
The Female Ministers, who were in the company of President John Dramani Mahama during a visit to the family of the late Mrs Okoh, expressed their emotional sentiments in an interview with the Ghana News Agency.
Nana Oye Lithur, Minister of Gender, Children and Social Protection, described Mrs Okoh as a front liner who braced the storm to set the pace for others to follow.
She said Ghana will continue to be grateful to the family of Mrs Okoh, for designing the national flag, as well as her general contributions to sports.
Nana Oye Lithur called for the institutionalization of a national day in memory of Mrs Okoh as a stateswoman and an accomplished sports personality.
Mrs Dzifa Ativor, Minister of Transport, said gender advocates and women in decision-making chain had lost an inspirer; adding, 'we need to learn from her humility and selflessness as well as dedication to Ghana'.
Mrs Mona Quarter, Deputy Minister of Finance and Economic Planning and Mrs Dela Sowah Deputy Minister of Gender, Children and Social Protection, urged the family to stand strong and celebrate the life Mrs Okoh.
President Mahama described Mrs Okoh as an illustrious daughter of Ghana, who paid her dues and therefore deserved a lot of tributes to see her off into the bosom of 'The Lord'.
Mr Kwesi Okoh, son of the late national flag designer, described her death as peaceful as she woke up, took her meals before reverting to her bed, only to be declared dead after some hours.
GNA