Lovely couple: Muntari & pregnant wife storm Milan street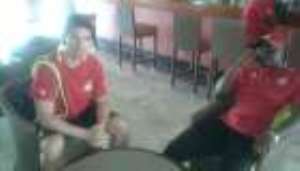 AC Milan midfielder Sulley Muntari was spotted with his pregnant wife Menaye Donkoh in Milan.
The Ghana international midfielder and his lovely wife are expecting their first child, however, the couple have been tight-lipped on the details - including how old the pregnancy is and the baby's sex.
And on Tuesday, the couple stormed the streets in Milan for shopping in Muntari's $900,000 Mercedes Brabus G63.
Menaye, a top-of-the-list Canadian-born Ghanaian model, entrepreneur and philanthropist, won the Miss Universe Ghana in 2004.
In 2007, she started dating Ghanaian footballer Sulley Muntari. The two got married on Christmas Day 2010.
Watch pictures of the two couples who are expecting their first child this year.