We were never contracted to provide 'emergency' power barges- Karpower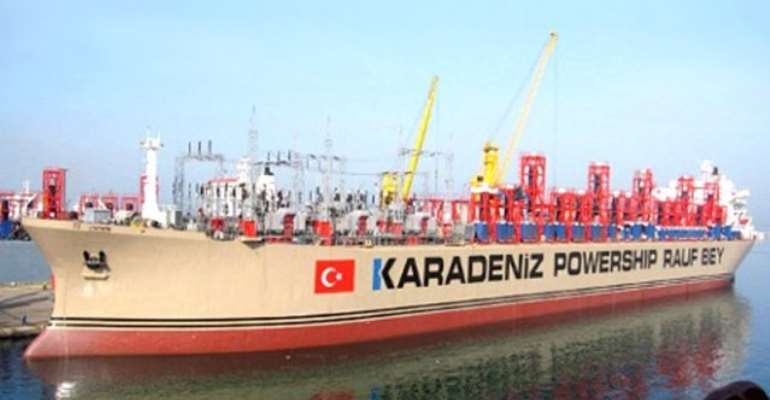 Karpower, the company Government is banking its hopes on to provide a short-term solution to the current power deficit, has denied ever agreeing to provide an emergency remedy to the problem.
"We are not an emergency power ship [maker]. What is being publicised as emergency power barges in Ghana are not our power ships. We don't service emergencies", said Karpower's Africa and Asia Director, Patrick O'Driscoll.
Expectations had been at the peak after indications were given by the government that the "emergency barges" would be ready by April.
However, it appears that Ghana may have to think of some other means of dealing with the ongoing power crisis in the short-term and not rely on the power ships under construction in Turkey.
According to Karpower, it never communicated to the government that the power plants would be completed by April.
"We never gave an April deadline!", O'Driscoll told Joy Business' Daryl Kwawu who, along with selected journalists from Ghana, is in Turkey as part of the company's bid to give the Ghanaian public a clear picture of the state of affairs.
"The power ships are not to address Ghana's short-term emergency need. The power ships would rather bridge the gap in Ghana's quest to find sustainable means of power supply and consequently become self-sufficient", he clarified.
Karpowership signed an agreement with the Electricity Company of Ghana (ECG) in June 2014 to provide 450 megawatts of power directly to Ghana's electricity grid via power ships.
The agreement was a 10-year Power Purchase Agreement which would eventually supply 22 percent of the country's power generation.
Karpowership currently owns and operates more than 2000 megawatts installed capacity globally, supplying 15 percent of Iraq and 25 percent of Lebanon's total electricity generation.