New births, deaths registration code advocated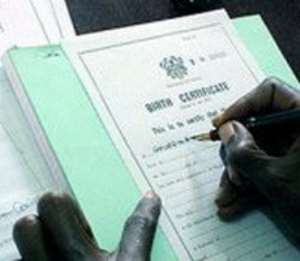 Kumasi, April 28, GNA - Mr Nicholas Osei-Bonsu, the Ashanti Regional Deputy Director of the Births and Deaths Registry, has suggested the introduction of a national identification registration system, under which only one unique number code would be used for the registration of all identification documents of citizens.
The system, he said, when implemented would form a credible baseline data to facilitate national economic development, and check fraudulent nationality identity deals.
He said a deadline should be given for the expiration of the old code on identification documents like passports, National Health Insurance and Birth Certificates, to allow the new system to be operational.
Speaking to the Ghana News Agency in Kumasi on Monday, Mr Osei- Bonsu said a backup system could be used to track the code to facilitate replacement for holders who lose any of such documents', he added.
This system, he said, would help provide government with accurate data on the fertility and mortality rates, to guide policy makers in planning development projects.
Mr Osei-Bonsu said an assessment of this data, could also inform the government to project population growth and design its programmes to address challenges associated with over-population and related issues.
He cited the United Kingdom as an example, and said since UK had adopted that kind of system, that country did not spend money on population census, and advised that Ghana followed suit.
Mr Osei-Bonsu was worried over the reluctance of most Ghanaians to register their births, and indicated that it was punishable by law for not registering a birth. GNA