A snapshot of Burundi unrest over third presidential term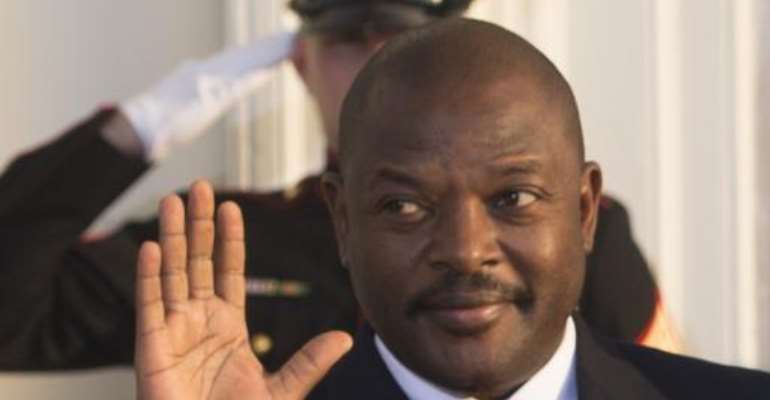 Bujumbura (Burundi) (AFP) - Below is a snapshot of three days of unrest in Burundi since President Pierre Nkurunziza controversially announced he would seek a third term:
- Saturday, April 25, 2015 -
- Nkurunziza is declared as candidate for a third term in office for elections in June, his ruling CNDD-FDD party announces after a special party congress in Bujumbura.
- The opposition says the move is unconstitutional and goes against the peace deal that ended a civil war in 2006. It vows to defy a nationwide ban on demonstrations and warnings the army could be deployed. It stresses protests will be peaceful.
- The United States warns that the central African country "is losing an historic opportunity to strengthen its democracy". It threatens to take "targeted measures" unless the electoral processes are "inclusive, transparent, credible, free and conducted in an environment without threats, intimidation, or violence."
- Sunday, April 26 -
- Police clash with protestors in several parts of the capital despite a government ban and threats to call out the army. Police use tear gas, water cannons and live ammunition to prevent hundreds and then thousands of youths from marching to the city centre.
- Three demonstrators are shot dead in the clashes with police. Two die on the spot and a third dies later from his injuries, according to the Red Cross.
- Two further deaths are reported overnight in alleged attacks by ruling party militia in the neighbourhood of Cibitoke in the north of the capital.
- As night falls, calm returns to the capital.
- Monday, April 27 -
- Demonstrators go back on the streets, with police breaking up a march in Cibitoke of around 1,000 youths trying to reach the centre of the capital.
- Several other demonstrations are reported to be taking place across the capital and are similarly broken up.
- The army is deployed on Bujumbura's streets.
- Police arrest leading human rights activist Pierre-Claver Mbonimpa, his lawyer says. An arrest warrant has also been issued for Vital Nshimirimana, head of a prominent NGO forum and leader of the campaign to block the third presidential term and who has gone into hiding.
- A senior police official says at least 320 people have been arrested in the unrest.
- Authorities shut down the main independent radio station RPA, which has for months been reporting on government intimidation of opponents.
- Sporadic clashes continue later in the afternoon in Bujumbura's Musaga district.