African Leaders Must Help Fix Plight Of Migrants To Europe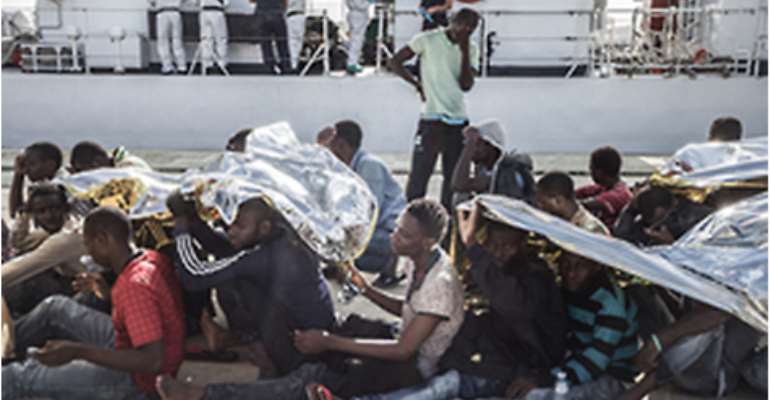 For a considerably long time now many people across the world including Ghanaians, Nigerians and other young men and women from the West Africa sub region have been moving from their countries through various means to Europe.
Apart from people from Somalia, Eritrea, Syria and Afghanistan and of late Libya who are escaping from wars and civil conflicts those from West Africa claim to be economic migrants leaving their nations in search of means of livelihood.
They do go through the difficult routes by road through the Sahara Desert resulting in hardships such as attacks from thugs, hunger, thirst and sometimes death. Those who are able to get to Libya often pay their way together with those from the war zones to venture travelling by rickety boats to European nations such as Italy, Malta, Spain and Greece. Some Africans and others from Asia and North Africa have managed to get through to Europe and are eking out a living while many others who were not lucky have died in the Mediterranean Sea which has now become the biggest mass grave on earth. Unfortunately these people include the yet to be identified six Ghanaians who were pushed into the Mediterranean Sea to death in a scuffle with some muslin extremist migrants.
According to the International Organization for Migration Since the beginning of 2015, more than 1,750 migrants and asylum seekers have died at sea for attempting to reach the EU. This is more than 30 times the number of deaths in the same period last year. Statistics from the UN refugee agency, UNHCR, show that half of those arriving by sea to Italy, Malta, and Greece are from Syria, Eritrea, Somalia, and Afghanistan – all countries experiencing widespread violence and repression.
As a result of this serious situation members of the European Union have been holding meetings to deal with the situation the outcome of which has shown that nations of Europe are divided over how to deal with the increase in asylum seekers and economic migrants to Europe. While Italy and some nations of Europe being sympathetic to the cause of the immigrants are calling for ways to take in and provide the many rescued migrants with shelter some European countries seem adamant to this move with Britain saying clearly that it would not admit any migrants on its soil.
Britain is a sovereign country and has the right to exercise her right over this unfolding issue. Some of the European governments are so angry at the situation in which people are determine to continue risking their lives to Europe that they are laying emphasize on the need to clamp down on human smugglers, destroy boats being used by the smugglers, and discourage departures and in the process ignore the factors driving many people to take to sea.
Even though we are in a globalised world in which people must be allowed to move freely the current trend in people venturing to travel to Europe through dangerous means must not be allowed to continue. Member nations of the Africa Union and the Economic Community of West Africa have a responsibility to revisit the reason why our forebears fought for our independence. They must remember they did so because we claimed to be ripe for independence and to pursue self determination and economic advancement relying on our vast arable lands, human and natural resources. At one stage our first President Osagyefo Dr Kwame Nkrumah said we Africans were capable of managing our own affairs.
This is why we set up the Africa Union the Economic Commission for Africa and regional groupings including the Economic Commission for West Africa (ECOWAS). The leaders of Africa must be up and doing by taking steps to get a team to study the reason for the mass exodus of Ghanaians to Europe through the Sahara desert and the Mediterranean Sea. In the case of Ghana this should be followed with a meeting of ministers', district chef executives' religious leaders and traditional rulers to plan programs meant to sensitize the youth against unplanned travels out of the country.
They should be given opportunities to learn vocations to be able to gain employment at home while those bent on travelling could be trained with appropriate skills needed abroad be sent out to work through government arrangements. Otherwise those who travel on their own are made to engage in menial jobs to earn slave wages in Europe. Is that what we want to become , slaves in foreign lands?
The sensitization program could be extended to schools and colleges where students could be sensitized against the 'get rich quick' attitudes through which some youth travel abroad. Holiday camping could be organized periodically as dome in the recent past for the youth to be given all round training in religion culture and civic education.
Parents and religious leaders and heads of civil societies have a duty to continue to educate the youth at home on the dangers of seeking greener pastures through unapproved routes . The youth should be advised to be careful and not 'throw in the towel' even if they are not well trained and unemployed. They must be told not to take risks otherwise they could either die, end up with menial jobs or be rejected by the European nations who are now getting fed up with asylum seekers and economic migrants.
Executive director
EANFOWORLD FOR SUSTAINABLE DEVELOPMENT
244 370345/ 0264370345/0208844791 [email protected]/[email protected]