South Tongu GES Levies Pupils To Pay Bills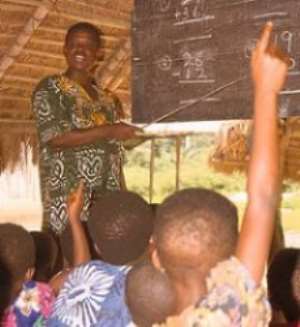 Prof Jane Opoku-Agyemang, Education Minister
Some head teachers of basic schools in the South Tongu District of the Volta Region are up in arms against the District Education Directorate for reducing the capitation grant meant for management of their institutions.
According to sources, an amount of money was deducted from the capitation grant to schools to help the directorate pay the utility bills to service providers such as Electricity Company of Ghana (ECG).
DAILY GUIDE's investigations revealed that the directorate recently levied each basic school pupil GH50p and subsequently deducted it from the schools' capitation grant of GH₵4.50 per child.
The South Tongu District, according to statistics available to DAILY GUIDE, has about 142 public basic schools, comprising 84 primary and 58 Junior High Schools (JHS), with an estimated population of about 16,000.
This means that the directorate is likely to make GH₵8,000, but DAILY GUIDE cannot authenticate the actual debt owed the utility providers.
The South Tongu District Director of Education, Angelina Attakey, who initially agreed to speak to the paper, later declined to comment.
A source at the directorate explained that the directorate took the difficult decision in order to ensure the smooth running of the entity and supervision of schools in the area to enhance academic performance.
DAILY GUIDE learnt that the directorate had failed to settle utility bills that had accrued for several months, following government's recent directive to Ministries, Departments and Agencies (MDAs) to pay their utility bills.
Head teachers in the district indicated that the deductions would adversely affect the management of their schools.
One of the aggrieved head teachers, who spoke to DAILY GUIDE on condition of anonymity, noted that it was unfortunate that the directorate was facing such challenges.
He explained that the schools usually do not get the exact money paid by government for each pupil since some other deductions are made at the national level.
The move by the directorate would worsen the plight of the pupils and make the running of the various schools difficult.
He added that deductions would significantly affect the provision of teaching aids and other items needed to teach the pupils effectively.
The head teacher said, 'We are supposed to use the capitation grant to run the schools; buying teaching aids and items that we need, but as it is now, we have to wait for another year or term to do some of the things we planned.'
From Fred Duodu, Sogakofe ( [email protected] )