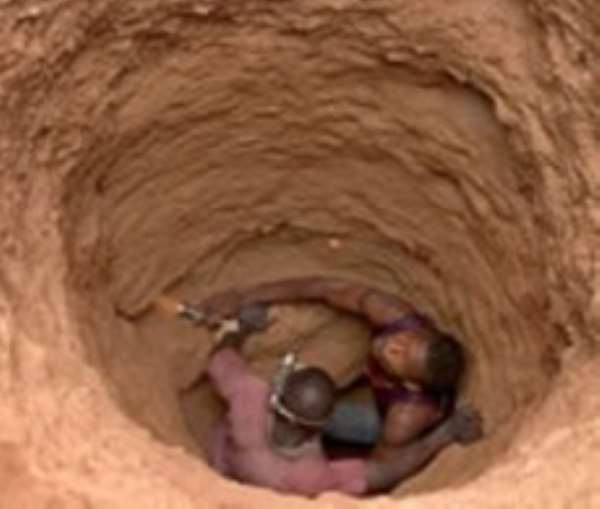 About eight dead bodies have been retrieved from a number of illegal mining pits at Banda Nkwanta in the Bole district of the Northern Region, where galamsey operation is said to be on the rise.
Skeletons of those trapped could be seen in the pits after their bodies had decomposed, producing a pungent smell in the area.
Residents, who could no longer bear the stench, mobilized and retrieved a number of decomposed and decomposing bodies after earlier failed attempts to save the miners when one of the pits caved on them last month.
Several youth in the area are reportedly dropping out of school while others are abandoning farming activities to engage in illegal mining, known as galamsey in the local parlance, in view of the huge cash that comes with it.
Sources at the area revealed to DAILY GUIDE that the pits are owned by known political activists - the reason why it is very difficult to fight the wanton destruction of the environment.
Sources revealed that some chiefs are behind the illegal mining, which seems to have strengthened the youth who have equally vowed to continue this operation, despite its life-threatening nature.
A similar incident occurred at Gbane in the Upper East Region where three people were reported dead last week.
Galamsey activities are said to be polluting water bodies and destroying several hectors of arable farmlands in the north.
It was observed that the miners had started encroaching on parts of the Bui forest reserve and cutting down trees indiscriminately to pave way for illegal mining activities.
At a closed door meeting with Mahama Ayariga, Minister for Environment, Science, Technology and Innovation, the Environmental Protection Agency (EPA), the Wildlife and Forestry Commission, the Bole district assembly, the chief of Banda Nkwanta, Duwa Wura, Joseph Kelli Sakara and the miners, the youth asked government to either license their operations or forget stopping them from operating.
They made it clear to government that they could not stop mining despite the stance by the ministry that their operations are illegal and have a dire consequence on the environment.
Mr. Ayariga described the acts of the youth as illegal but said government would not use any forceful means to stop them, promising to engage them in a dialogue to protect lives and the environment.
The Deputy Northern Regional Minister, Alhaji ABA Fuseini, expressed the hope that the sector minister's visit would go a long way in addressing illegal mining in the region.
Meanwhile, the paramount chief of the Gonja Traditional Area, Yagbongwura Tuntumba Sulemana Jakpa Bore Essa I, has promised to support government in fighting illegal mining activities in Gonjaland.
From Stephen Zoure, Banda Nkwanta