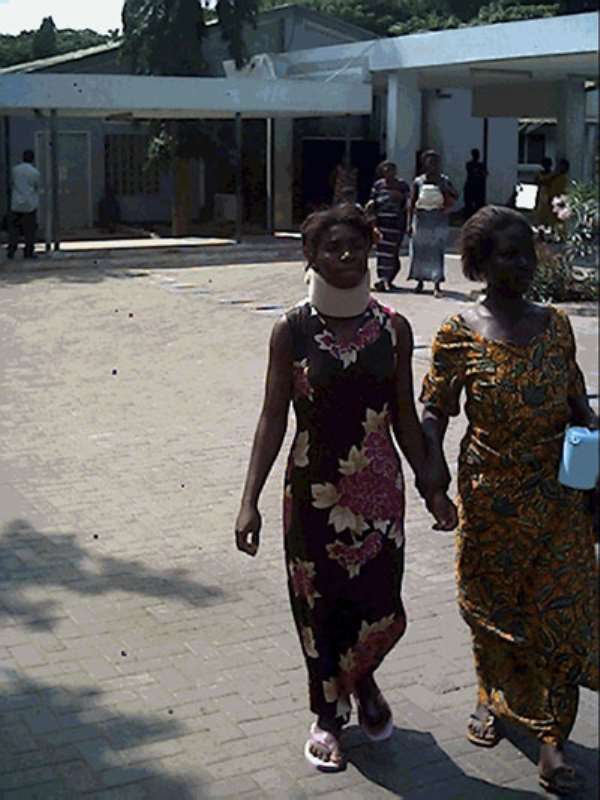 Mavis De-Graft Turkson, the twenty-three year old mother of one who was brutally assaulted by the Police bodyguard of the Minister of Interior, Hon. Hackman Owusu Agyemang, was last Monday, 16th August 2004 discharged from the 37 military hospital, after undergoing treatment for head and neck injuries as well as injuries to other parts of her body. Speaking to The Lens on her hospital bed, Miss De-Graft Turkson said since the reprehensible assault on her, neither the Minister nor the bodyguard or any other person from the Minister's family has paid her a visit to commiserate with. She recalled that an amount of three hundred and fifty thousand cedis, being her monthly salary, which was paid to her on the fateful day and which she had in her possession at the time of the assault, got missing. The Lens sources at the Minister's house confirmed that salaries were paid to the workers in the employ of the Minister on that day.
Meanwhile Mavis' family has petitioned the Attorney-General and Minister of Justice over the assault.
In a petition, copied to a number of officials and institutions including all media houses and foreign embassies in Ghana, Mavis' family appealed to the Attorney-General and Minister of Justice to "take an interest in this matter so that, together, all of us would ensure that this gross abuse of Mavis' fundamental human rights do not go unpunished, and the necessary compensation paid to the poor girl."
The family stated that, "we are particularly appalled by the fact that even though Mavis' condition was given wide publicity in The Lens newspaper, and subsequently on Radio Gold 90.5FM, neither the Minister, his bodyguard, nor any member of the Minister's household has deemed it fit to pay the ailing Mavis a visit, let alone to offer appropriate apologies."
It would be recalled that last week The Lens published the assault on Mavis under the banner headline Hackman's Maid Hacked.
Following the publication of that article, an Accra FM station, Radio Gold 90.5FM, called the Minister of Interior, Hon. Hackman Owusu Agyemang, but, according to Mr. James Agyenim Boateng, a presenter at that station, the Minister declined to comment on grounds that he (Hon. Hackman) had then not seen the publication.