Miracle Temple Assemblies Of God Church Launched 30th Anniversary Celebration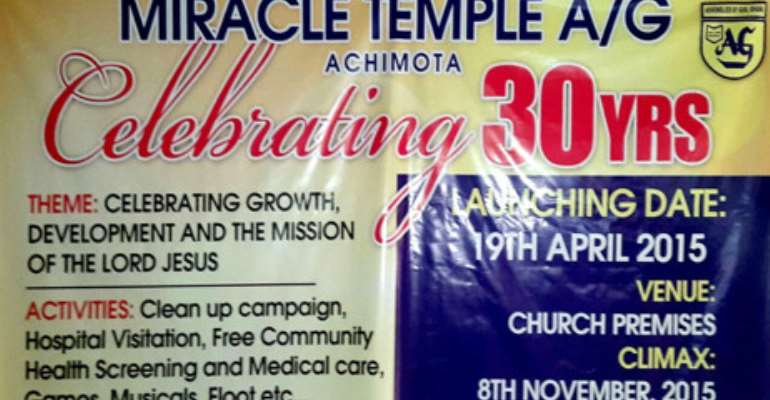 Assemblies of God church Ghana, Miracle Temple - Achimota branch has launch its 30th anniversary Ceremony with the theme; Celebrating growth, development and the mission of the lord Jesus, here in Accra.
The committee chairmanfor the anniversary, Mr. Tieku said the purpose for the anniversary celebration isto celebrate God because He has been so good to the church and individual and for his mercies and protection over the past years.
'We are responding to the heart beat of God' is the church slogan therefore this anniversary must be well celebrated to the glorification of God. he said.
He highlighted on some of the activities to mark the anniversary which include; clean-up campaign, hospital visitation, free community health screening and medical care, games, musical festival and a float.
'Since the celebration is important, we need to look good in terms of dressing, therefore the church have agreed on coming up with anniversary cloth to beautify individual' he added.
This he entreated members to use their platform to invite sponsorship to support the anniversary since is the first of its kind in the church.
The anniversary is slated on the 19th April to 8th November 2015.
By Anita Frimpong and Prince Atuu