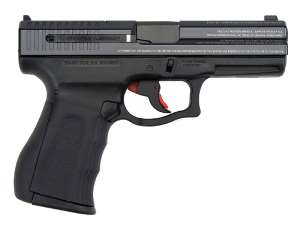 The Asokwa Divisional Police Command in the Ashanti Region is investigating a case in which a businessman called Francis Mawa allegedly shot his neighbour in his house due to excessive noise from a generator set.
Mawa allegedly fired two shots from his foreign-made pistol at 46-year-old Thomas Duodu after an agreement ensued between them on February 11, 2015.
The first shot missed him narrowly but the second hit him in the left thigh.
The victim, also a businessman, moved to the house of the suspect at about 10: 30 pm on that fateful day to complain about the noise pollution caused by his generator set which made it difficult for his little child to sleep.
However, months after the incident, the case is yet to be sent to the court for the law to take its course.
Confirming the incident to DAILY GUIDE in an interview, the Asokwa District Police Crime Officer, ASP Simon Denteh debunked assertions that the police had unduly delayed the case.
He said the police were waiting for the report of a ballistic examination being conducted in Accra on the gun allegedly used in the commission of the crime to enable them to forward the docket to the Attorney General's Department for prosecution.
Meanwhile, the Crime Officer said the police command has granted the suspect a police enquiry bail while awaiting the ballistic examination report.
Francis Mawa and Thomas Duodu who are close neighbours stayed peacefully in New Amakom, near the Baba Yara Sports Stadium until Mawa started using a generator set in his house in the wake of the power crisis in the country.
ASP Denteh said days before the shooting, Duodu had pleaded with Mawa to turn off his generator at 10 pm because the excessive noise made it difficult for his baby to sleep, which he obliged.
But days later, the suspect disregarded the agreement and began using the generator after 10.00 pm.
On February 11, 2015, at about 10: 30 pm, Duodu went to the suspect's house to draw his attention to the agreement. On reaching the house, he allegedly used a metal rod to hit the burglar proof fence.
When the suspect's wife, Rosemary Todi Ogbona saw him, she poured water on him.
She reportedly entered the room and returned in the company of her husband to pour water on him again.
She slipped and fell heavily on the ground.
Mawa, who was allegedly welding the pistol, fired twice at the Duodu.
The co-tenants rushed to scene and attempted to rush him to the hospital, but a police patrol team appeared on the scene, arrested the suspect and took the victim to the Komfo Anokye Teaching Hospital (KATH) for medical attention.
A medical examination report on the victim signed by Dr. Benjamin Frimpong-Twumasi, a surgical specialist at KATH, confirmed that Duodu sustained lacerations on his left thigh from a gunshot.
FROM James Quansah, Kumasi