Electrician Busted For Stealing NHIS Motorbike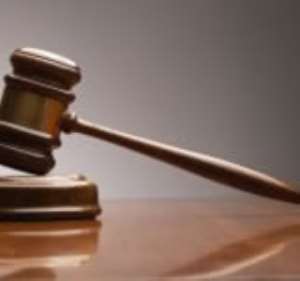 Karim Jampo, 20-year-old electrician resident at the Konkomba market in Accra, has been busted by the Suhum Police for allegedly stealing a motorbike belonging to a National Health Insurance Scheme (NHIS) staff in the Suhum Municipality of the Eastern Region.
Briefing DAILY GUIDE, the Suhum Police Commander, Superintendent Yahaya Muchiraru said the suspect is a native of Damba, a village in the Northern Region but stays at Konkomba market in Accra.
The Suhum Police chief noted that around 2 am on Wednesday, the suspect entered the house of the Assistant Public Relations Officer of the NHIS, Washington Amoah, at Newtown, a suburb of Suhum, while the victim was asleep and took away his motorbike.
According to Supt. Muchiraru, the suspect who intended to ride the motorbike to Accra had a fuel shortage when he reached Kyekyewere, suburb of Ayensuano. He then decided to siphon some fuel from a bulldozer belonging to a Chinese Company that was rehabilitating the Nsawam Apedwa Highway to fill the motorbike to continue his journey.
The Police officer indicated that a security officer who was watching over the bulldozer became suspicious of the movement of the accused and raised an alarm. The suspect was arrested and sent to the police.
Supt. Muchiraru stated that the suspect, upon interrogation, admitted that he had stolen the motorbike and was going to sell it at Komkomba market in Accra.
The Suhum Police Commander disclosed that the owner of the motorbike had earlier reported to the police that his motorbike had been stolen.
The suspect is currently in police custody and assisting in investigations. He would be arraigned before court after police investigations.
FROM Daniel Bampoe, Suhum
[email protected] gmail. com