Europe migrant military mission faces rough seas ahead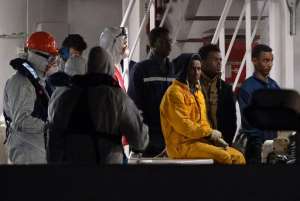 Rescued migrants arrive in Catania, Italy, on April 20, 2015. By Alberto Pizzoli (AFP/File)
Brussels (AFP) - The Mediterranean's worst migrant shipwreck has spurred the EU to plan a military mission against people smugglers, but it will be hard to implement and risks reinforcing the image of an uncaring "Fortress Europe".
After more than 700 people drowned in last weekend's tragedy off the Libyan coast, European leaders agreed at a special crisis summit on Thursday to take a series of steps to tackle the problem.
But while measures such as tripling funding for search and rescue missions is simple enough, it is the plan to "capture and destroy the smugglers' vessels before they can be used" that will cause future headaches.
If it goes ahead, it would be the first time the EU has carried out such a military operation.
Rights groups have already criticised the proposal, with the Caritas organisation calling it an "unacceptable declaration of war to migrants and refugees."
"No matter how far beyond the Mediterranean the EU expands 'Fortress Europe', it will never stop people from risking their lives to enter Europe if the root causes of their situation are not tackled," Caritas said in a statement Friday.
But the real problem is how such a mission would even work.
The questions are endless: how to get European military assets in place; whether they would be just at sea or have boots on the ground too; how to identify which boats belong to smugglers; how to ensure there are no migrants aboard.
Over it all hangs the spectre of the NATO air war that toppled Libyan leader Moamer Kadhafi in 2011 -- which some in Europe blame for the chaos and political vacuum that has led to the flood of Mediterranean migrants.
The EU's diplomatic service is due to present its blueprint next week but "it isn't simple... there is a desire to make an impact, but we have to do all that in harmony," a European source said.
"It's not some little thing where we go and shoot boats in Libyan ports."
- Drones, commandos, blockades? -
Drones are one method that has it been suggested the EU could use, but experts were sceptical.
"I don't believe in that at all," European Parliament member and defence specialist Arnaud Danjean said.
"You'd come up against legal and operational hurdles very quickly. To identify one boat out of 200 in a Libyan port as the one meant to carry migrants requires good intelligence, along with people on the ground, not just drones," he said.
The EU's naval Atalanta mission to disrupt Somali piracy off the Horn of Africa is another possible model. In May 2012, commandos destroyed a pirate base on the Somalian coast.
A blockade of Libyan ports is another alternative.
But Europe must above all find a way of filling the "legal void" that surrounds any such action, said Danjean.
The EU wants an international mandate for any action in Libyan territorial waters, and Britain, Germany and France are set to demand a UN Security Council resolution.
EU diplomatic chief Federica Mogherini will use a visit to New York next week to "meet key actors" at the UN on the issue.
Russia, however -- mired in a confrontation with Brussels over Ukraine and an opponent of the 2011 Libyan intervention -- would almost certainly veto any such resolution.
If Europe does go it alone, military action is fraught with risks.
"If trapped somewhere, migrants will find other corridors. It basically solves nothing," a military source said.
Even more alarming for European capitals, is the fact that the Islamic State group is active in Libya and would be "delighted to see the European military come to them, they would be easy targets," added the source.
For now, the EU has decided to boost its Triton search and rescue mission and will also launch a new rapid return programme for migrants who do manage to make it to Europe's shores.
It is also in talks with transit countries in the northern half of Africa such as Egypt, Sudan, Tunisia, Mali and Niger.
But rights groups say this is just another case of Europe pulling up the drawbridge.
"Poor countries all around the world are shouldering an unfair burden of millions of refugees fleeing from war, insecurity, poverty and inequality," Oxfam said.