Soli For Editors Was Not 'Bribe'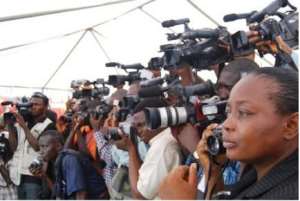 Editor in Chief of the New Crusading Guide Newspaper Kweku Baako Jnr has confirmed that one of his editors received a cash amount of 500 cedis but has vehemently dismissed the assertion the amount was to bribe him or other editors.
A huge controversy has followed reports that the Chief of Staff, Mr. Julius Debrah, handed 1,000 cedis cash to editors who attended a meeting he had called to improve relations between the presidency and the media.
Over 50 editors were said to have attended the meeting. Some of the editors were said to have collected the cash while others rejected it.
Critics wondered why a cash-strapped government who is out there before IMF cup-in-hand begging for a bailout would dole out such an amount of money to journalists.
The journalists were not spared the criticisms as well.
Some believe the amount could compromise them [journalists].
Contributing to the matter on his facebook wall, the Editor-In-Chief of the New Crusading Guide newspaper confirmed one of his editors received the amount, but it was 500.00 not 1,000.00.
According to Mr Baako, "My checks have revealed that some monies were given out to the journalists who attended the meeting. I have no idea who and who received what and who and who declined the offer. However, one of my editors who was at the meeting with my consent, has confirmed to me that the envelope given to him contained Ghc500. The issue of "soli" has remained a long-standing ethical challenge/dilemma for our calling, and I have no problem with efforts to highlight its implications for the integrity of the work we do as journalists and media practitioners."
Mr Baako vehemently dismissed the assertion the money was to bribe and influence the work of the journalist.
"To suggest that those who received the monies were bribed is something I cannot accept. Nobody gives or offers a bribe in the open and before a multitude!" Kweku Baako pointed out.