Unemployed gets four years for stealing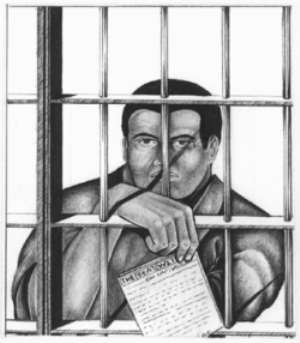 Tarkwa, April 24, GNA - The Tarkwa Circuit Court on Thursday sentenced a 19-year old ex-convict and unemployed, Bismark Osei, to four years imprisonment in hard labour for stealing one Samsung DVD deck and its woofer, two sneakers, three car keys, cash sum of 2,240 Ghana cedis, wrist watch and a Nokia Lumia mobile phone, all valued 5,090 Ghana Cedis.
Osei pleaded guilty to unlawful entry and stealing.
Prosecuting, Police Chief Inspector Oscar Amponsah told the court presided over by Mr. Justice Obeng Asante that the complainant, Musah Adamu, a contractor at Goldfields Ghana Limited, Tarkwa resided at Bogrekrom near the Tarkwa Municipal Hospital and the convict who is popularly known as Abodwe stayed at New Takoradi, a suburb of Tarkwa.
He said around 2130 hours on April 5, the complainant woke up from bed and detected that thieves had entered his room through the back door which was not locked and that the items were stolen.
The Prosecutor said, a report was made to the police by the complainant on that same day.
Chief Inspector Amponsah said the accused person who was not satisfied with the booty he stole from the complainant's house, proceeded with his accomplices to Nsuta to steal, but he was apprehended and brought to the Tarkwa Police Station on April 13.
The Prosecutor said when Osei was interrogated, he admitted stealing the items, led the police to his hide-out at the Railway station to retrieve the items.
GNA