6 Ghanaians thrown into Mediterranean sea after religious row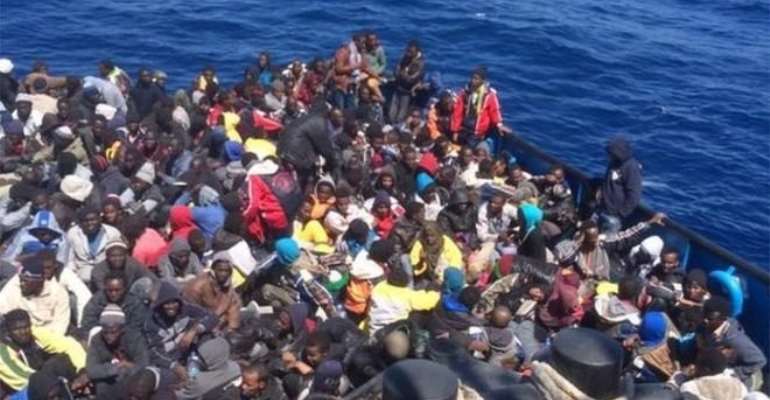 The Foreign Ministry has confirmed that six Ghanaians were part of some twelve Christians thrown overboard a boat heading to Italy following a religious row.
According to the Ministry, only three of the drowned Ghanaians have been identified by the help of four survivors of the high seas incident.
The incident, which was reported by international news networks such as the BBC, indicated that all the migrants thrown overboard were feared dead.
However, the Foreign Ministry says its investigation reveals there are four survivors.
"These four survivors with two other Nigerians are the key witnesses for the prosecution. The 3 identified of the 6 drowned are Nana Yaw, born in 1987, Kwasi Amankwa about 35years and Kwadwo Asiedu estimated to be 21years old. The four survivors and key witnesses are: Emos Yeboah born on 25/9/1981. Kwadwo Kona Augustine 14/2/1989. Kwesi Agyeman 16/9/1989 and Osman Jamal 15/03/1996", Foreign Minister Hannah Tetteh said on her Facebook page.
The Minister said these were revealed to her outfit after a Consular Officer visited Palermo, where the surviving migrants were camping.
The survivors are also helping Italian authorities to investigate the incident.
It emerged last week that 15 Muslims were arrested by Italian police after allegedly throwing some Ghanaian and Nigerian Christians into the Mediterranean sea after a row.
According to the Foreign Ministry, interviews conducted with the survivors at the Palermo camp revealed that there was a fight on the boat that sparked by a religious argument.
"They [those who were engaged in the row] started first with the activities of ISIS, Boko Haram and then the argument became Muslim-Christian affairs and degenerated to the point where the deceased were thrown overboard.
"We have also learned that there were other Ghanaian nationals on the boat but have been taken out of Palermo to the other regions. We are expecting the location(s) to be indicated shortly so that the mission can get in touch with them as soon as they receive those details", the Foreign Minister said.
Meanwhile, Italian Prosecutors are preparing a case to prosecute the Muslims alleged to have thrown the Christians overboard.
Story by Ghana | Myjoyonline.com | George Nyavor | [email protected]