24 April 2015
|
Feature Article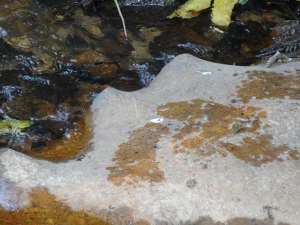 For half a century, I believed stories about female breasts on stones in a river around Tudig in Momo Division of the North West of Cameroon was an unfounded legend.
Today, 23 April 2015, I traveled to +gieben to unravel the myth of female breasts on a stone.
I found a long compact sand stone buried on the bed of the river. It had three breast like formations on it.
At the entrance to this mythical spot, a groove of Nkeng (peace plants) surrounded a tree with other ritual plants.
"This is where my grandparents and village elders came and poured libations in honour of +gieben. It was a ceremony to celebrate breasts which adorn the Meta woman."
Indeed, Meta women are endowed with breasts to cause others to envy their voluptuousness.
I examined the stone to determine whether it was a hoax. The shaping was natural and no chisel was ever used to shape the breasts.
My guide promised to come back to open the rock and expose the other breast formations in +gieben.
There are breasts of all sizes ranging from those of young damsels to those of grannies.
I left promising to show this natural wonder to the world. Why not add it to the hall of natural beauty.
A true and refreshing find that moves myth into reality.