The Light Of Peace Shines On Ghana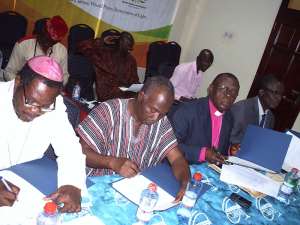 Accra, Ghana- The World Alliance of Religions' Peace (WARP) Officesare arising in all over the world including African continent and finally the light of world peace has reached Ghana. On April 14th 2015, hosted by an international peace organization, Heavenly Culture, World Peace, Restoration of Light ("HWPL",Chairman Man Hee Lee), the first WARP Office Meeting was heldat the ISSER Conference Center of Ghana University.During the event, under the title of "What is the meaning of peace in each scriptures?", the influential Ghanaian religious representatives gathered together.
Participants of the peace office meeting included Matthias Mededues-Badohu, a bishop of the Anglican Diocese of Ho, Paul Kofi Fynn, a bishop of Evangelical Lutheran Church of Ghana (ELCG) and Chancellor of Wisconsin International University, Eben Kwa, a pastor of Protestant church, and Samuel Antwi, General Secretary of Ghana Pentecostal and Charismatic Council (GPCC). Ghanaian youth groups including 'West Africa Center for Peace Foundation' were also present at the event.
After watching a video clip that demonstrates the conflicts occurred because of religious misunderstandings in the world,each representativewas given an opportunity to share and discuss their thoughts on solutions to such disputes. All theparticipantsagreed that the religious conflicts must be ceased and all religious leadersshould takean initiative and set an example of the unity of religions. Promising that they would join the peace movement of HWPL and continue to work to bring forth peace, the representatives and participants signed together on the Alliance of Religions' Peace Agreement.
Bishop Mathias Medadues- Badahu said that it is important for religions to come together to achieve world peace. "Religions have actually enslaved us instead of uniting us but if peace has to come to the world then it must start from us."On his part, Dr. Paul Fynn said that it is time for all participants to really work towards peace. He said: "if politicians can stop their greed and stop manipulating innocent people, peace will reside in the world."
On the other hand, the youth participants ensured that they are able to achieve world peace through working with HWPL and hoped for adeeper involvement in HWPL's activities. The participants understood the true meaning of 'peace' based on religious scriptures and the leaders were reminded of their mission and role which play a great part in the work of peace-building.
The HWPL's WARP Offices were initiatedbychairman Lee of HWPL who has put great effortto hold interfaith peace dialogueand provide innovative answer to the cessation of conflicts among religions. Currently, there are 51 offices in 31 countries and many of them are being held voluntarily by religious leaders who were inspired by Chairman Lee's dedication and HWPL's peace works. In the near future, 'WARP Office in Ghana' will be held in Tamale and Kumasi.