Ambassador meets Ghanaian doctors in Israel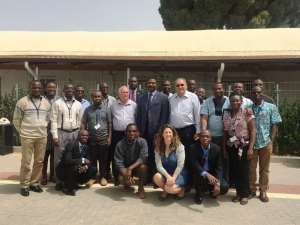 Accra, April 22, GNA - Mr Ernest S. Lomotey, Ghana's Ambassador to Israel, has met a group of Ghanaian Medical personnel, who are undergoing intensive training at the Sheba Medical Centre (SMC) in Israel.
A statement by the Embassy and copied to the Ghana News Agency on Wednesday, said the doctors are the pioneers of a programme to equip Ghanaian doctors and nurses with the necessary skills, to take up the running of the new University of Ghana Teaching Hospital, which is modelled along the lines of the famous Sheba Hospital.
It said the 17 personnel, were the first batch of 30 medical doctors and nurses who are expected to train at the Centre for a period ranging from three to seven months for the said purpose.
The Chief Executive Officer of the SMC, Professor Zeev Rothstein, expressed happiness about the cordial relationship that exist between Ghana and Israel, especially in the medical field; which, he said, had resulted in the ongoing programme for Ghanaian health professionals.
He added that the Centre is looking forward to deepening its cooperation with Ghana.
Professor Rothstein said depending on their areas of specialisation, some of the doctors would come back to Israel after the initial three or seven months for top-up programmes to rightly position the facility in Ghana to equal the Sheba Medical Centre.
On his part, Mr Lomotey urged the members of the group to take full advantage of the training, tap into the Israeli medical practices, as well as learn from the strict work ethics, commitment and culture of Israeli health officials and to replicate their experience in Ghana.
GNA