22 April 2015
|
Feature Article
Boyo Misses An Opportunity At Environmental Protection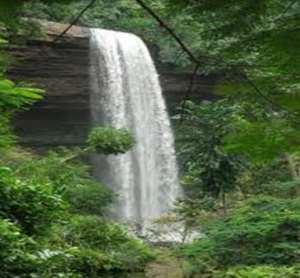 Government Technical High School (GTHS) Njinikejem through the auspices of its Parents Teachers Association (PTA) and the village council have been locked up in a plot to grab the infrastructure and space of Boyo Environmental Protection Association (BEPA) for five years. GTHS claims they need more space to expand its classrooms.
BEPA was founded in 1994 to encourage agro forestry and protect the fragile environment of Boyo. The US Embassy in Cameroon provided a grant for the construction and equipment of the offices, which GTHS through convoluted plots schemes to grab for its uses.
The Council Chairman of the Traditional Council of Njinikejem is alleged to have conspired with the Divisional Officer of Boyo and various principals of GTHS to grab the property of BEPA.
Both BEPA and GTHS found in Njinikejem have the best interest of the community at heart. BEPA is presently teaching women agro forestry. Environmental friendly trees have been planted round the one hectare property. Bee farming and animal breeding is going on at BEPA though at a reduced rate.
GTHS can best be described as a series of halls and hangars without walls for the 750 bourgeoning population of GTHS Njinikejem students. There is an acute shortage of classrooms. There is enough space to build all the facilities needed to house all the students on the present land occupied by GTHS.
Abang David Njousi says he had proposed a collaborative programme to GTHS.
"The win-win collaboration I am proposing is to use the school as a pioneer pool from where to draw students for environmental education and protection in Boyo, while the students benefit from all BEPA infrastructure." Said Abang David.
According to the scheme the students would have learnt to build beehives, pens for animals, production of biogas plants and generating biogas from the excrement from animal farming. Fish farming is part of the green practices that BEPA was going to introduce.
BEPA – GTHS Deadlock
While BEPA has the best interest of Njinikejem and Boyo at heart, its founder is being presented as an agent against development.
"After the university and teachers certification from the Advanced Teachers Training School in Yaounde, graduating with an equivalence of a Masters degree, I decided to settle among my people in Njinikejem and protect the fragile environment I deemed highly threatened. I was one of the first PTA members of GTHS and I proposed many good initiatives there." Abang said with tears in his eyes.
He confessed that the community conspired and killed some fat milk cows that he had acquired. The savaged act forced him to leave the village as it would seem many powerful enemies of progress were grouping to fight him.
"There is no way they can ever take away my sweat. The government of Cameroon protects my investments. The environment is more important to mankind than empty education training schemers and land grabbers" Said Abang.
GTHS had to discuss with the board of managers of BEPA to see how best to implement the collaboration proposed by BEPA. It is unfortunate they went by jungle methods to acquire BEPA property. Cameroon laws do not allow this.
BEPA dispatched the human rights and land rights campaigner, Fon Achobang to investigate and broker peace. He paid a visit to Njinikejem and concluded that the setup was one, which if well exploited in a collaborative manner would bring lots of development to the community.
The interim Divisional Officer of Belo thinks differently. He believes GTHS just had to move in and take over the BEPA building and yard. It is of course criminal by Cameroon laws.
MIDENO, which has hundreds of properties in the North West Region and has been out of business for nearly 10 years is still considered landlord of all those complexes. No school or public concern has moved into those places to take over because MIDENO is presently out of business.
NWCA, North West Cooperative Association has been nearly out of business since 1988. Most of the NWCA structures are collapsing, but no other public institution has threatened to take over its investments as GTHS is threatening to take over BEPA.
Achobang is going down to Njinikejem. Wherever Achobang goes, it means there is real trouble. The Divisional Officer of Belo must put his house in order as the law must prevail in Njinikejem.
I have been on two campaigns before. On the Herakles Farms debacle, Dr Isidore Timti, a son of Kom was the vendor of an illusion of unlimited land to the Americans. When it came to the Catholic Archbishop of Bamenda versus the Mbororo of Banja, it was Cosmas Jobain, another Kom son promoting the illusion of an easy grab of Mbororo land. In both cases, these greedy individuals failed. Today, it is BEPA, a legal not for profit organization versus GTHS pitting KOM children against one another.
Before I set foot on Njinikejem soil, I wish to invite all Komrades to call the house to order before Achobang becomes the cow in the China shop.
Fon Christopher Achobang
Social Commentator, Human rights activist
Land Rights Campaigner
The Cameroons
Tel, (237) 699365954
(237) 674211066