Amonkrom Receives First Donation From OKF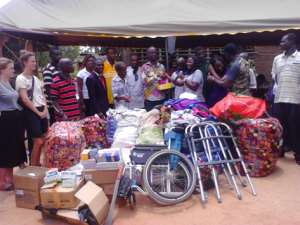 An almost abandoned community, Amonkrom near Nsawam in the Eastern Region last Friday experienced for the first time a donation when Osei-Kusi Foundation (OKF) presented items worth GH¢ 5,000 cedis to them.
The development and resource organization which is focused on mostly the youth, presented items such as machetes, used clothes, bibles, wheel chair, walking aid, medications, shoes and stationeries for children of school going age.
Aside the donation, the OKF team treated the community fellows to melodious songs of praise and worship and later endowed them with the word of God.
Medical experts from West African Aids Foundation (WAAF) were present to give out the right dosage of medication to the people to solve their health problems after screening.
The team also spoke words of Inspiration for the youth as a life guide to coach them in the choices they would make in the future.
Amonkrom is a small, impoverished farming community of about 400 residents located some 40km north of Ghana's capital, Accra. The community lacks basic amenities such as electricity, portable drinking water and a healthcare facility in the community.
Students have to walk about 4 miles to attend school in the nearest village. The future leaders there (the youth) mainly engage in small scale farming, but those without farmlands end up loitering about during the day - hopefully for the devil to find work for their idle hands.
Speaking at the headquarters of OKF before the journey started, Executive President of OKF Dr. Kofi Osei-Kusi said their action was to show love and care to the community just as they have been doing to other far-flung villages across the country.
He noted that their story was very pathetic and thus the coaching team was going to speak to the youth and break their mental barriers which he added could be a stumbling block in their lives.
The Executive President explained that he expects them to explore developmental gaps and move ahead in life.
Nana Kofi Boadi, the Chief of Amonkrom noted that the items donated by OKF would go a long way to supplement their needs.
He mentioned that because of community lacked economic activities; it was difficult for most of them to make ends meet.
An overwhelmed Nana Boadi appealed to other benevolent organizations, philanthropists and other Non-GovernmentalOrganisations to follow the footsteps of OKF since their situation was appalling.