Court jails mechanic 25 years for robbery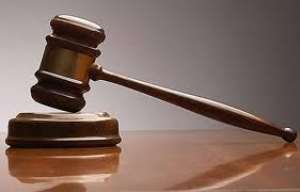 Accra, April 21, GNA - An Accra Circuit Court, presided over by Francis Obiri, has sentenced Kamal Mohammmed, an auto mechanic, to 25 years imprisonment for robbery.
The convict is also to serve another 15 years for conspiracy to commit crime and both sentences are to run concurrently.
Abdul Razak, an accomplice to Kamal, was earlier convicted on his own plea at the first court appearance.
Deputy Superintendent of Police (DSP) Ernest Acheampong told the court that the complainant in the case was Imranata Jibril, a teacher, resident at Petroleum Estate near Lapaz.
He said On March 31, at about 1500 hours, the complainant was in her Toyota corolla with registration Number GG 3237-14 in front of her house.
He said the complainant spotted Kamal and Razak riding on an unregistered motorbike passed by but they returned some few minutes later to where she had parked.
He said the convicts pulled out a pistol and ordered the complainant to surrender all items in her custody, including the ignition key to the car else she would be shot.
DSP Acheampong said the complainant complied with the order and gave out all she had on her but was later marched into her house while the robbers bolted with the car.
The prosecution said the complainant raised the alarm and with the assistance of some taxi drivers, who appeared at the scene, pursued the convicts.
He said luck eluded the convicts when one of them driving the complainant's car ran into a ditch while the other riding the unregistered motorbike hit an object and fell into a gutter.
He said the taxi drivers, who were pursuing them, managed to get them arrested.
The Prosecutor said it had been established that both convicts hatched a plan to go on a robbery expedition for which Razak provided the weapon.
It was also established that both convicts had spent a number of years at Nsawam prison for similar robbery offence but were recently freed by the 'Justice for all Programme'.
GNA