South African High Commission condemns xenophobic attacks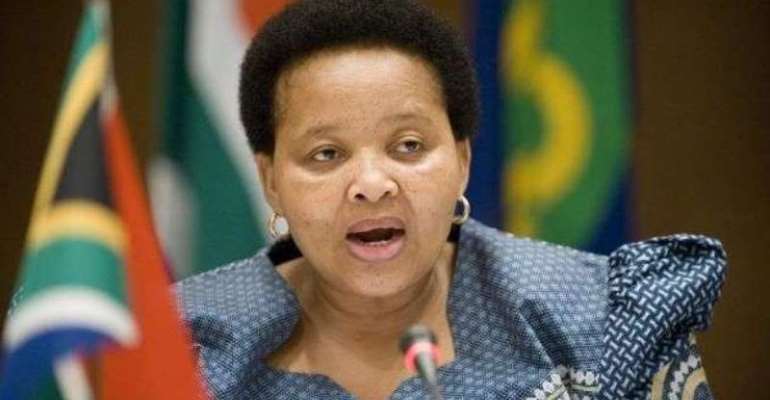 Accra, April 21, GNA - The South African High Commission in Ghana, has condemned violent xenophobic attacks against foreign nationals in her country.
Ms Lulama Xingwana, the High Commissioner described the show of aggression as a 'criminal offence' that would not be tolerated by the South African government.
She said in as much as the violence perpetuated on other black Africans and foreigners is regrettable, the South African government is doing everything in its power to ensure the safety of all citizens and foreign nationals 'irrespective of their status'.
'The South African Government expresses its sincere condolence and sympathies to the regrettable loss of lives and injuries suffered during this unfortunate occurrence…I reiterate the commitment of the Government working in partnership with African Governments and people, to address underlying causes of this recurring challenge in our society with a view to seek a sustainable long-term solution', Ms Xingwana, told journalists at a media conference in Accra.
'We condemn in the strongest possible terms the recent outbreak of violent attacks in parts of the country against foreign nationals, particularly fellow Africans from various African countries.'
Describing South Africa's transition to democracy as 'one of the world's most iconic testimonies of tolerance and peaceful co-existence, Ms Xingwana said South Africa viewed the attacks, that have claimed at least seven lives, including a Ghanaian, in the past week, as criminal and would be dealt with holistically.
She said South Africa is governed by laws, which no one lining and working in that country should take into their hands.
She said government would enforce the laws of the country and 'will not hesitate to act against criminal activity or those found to incite violence'.
'South Africa is a diverse society that welcomes and promotes interaction among people of different backgrounds. As such, nothing can justify the criminal activity and intolerance that these attacks represent… Solutions can be reached through constructive engagement and by working together,' she said.
The High Commissioner said South Africa is obligated to protect the rights of every human being within its borders, including foreign nationals since it is a signatory to various international protocols that safeguard the rights of migrants.
Recalling the period during South Africa's difficult and torturous independence struggle where fellow Africans opened their doors for many South Africans that fled the persecution of the Apartheid regime, Ms Xingwana strongly urged South Africans 'not to allow few individuals to reverse and undermine our historical achievements'.
Meanwhile, some African governments whose citizens have been affected by the violence have vehemently condemned the attacks, which they consider unjustifiable, urging the South African government to take immediate remedial actions to forestall the violence, which they say do not augur well for African Unity.
Some have even contemplated evacuating their people from the country, which has recorded xenophobic attacks for the past two weeks if the situation does not improve immediately.
However some foreign nationals have already fled the country, fearing the situation, which has happened before, could get worse.
Some pundits have blamed the recent wave of attacks on a statement made last month by South African Zulu King Goodwill Zwelithini accusing immigrants for the rising crime rate and unemployment in the country. But the King on Monday debunked that assertion insisting his words were misrepresented and that the statement was directed at the police and the need for stricter law enforcement.
'This violence directed at our brothers and sister is shameful," he told a gathering of tribal chiefs in Durban on Monday.
'I have never called on my people to attack foreigners. Had I said that, this country would be in ashes', Zwelithini said.
At least seven people have been killed and 307 suspects arrested in the worst ethnic violence since 2008, when 62 people were killed mainly in Johannesburg's townships.
Ghana's government has called for calm, urging its citizens in South Africa to take precautionary measures and to remain calm, as it seeks solutions to the problem.
Meanwhile some South African business concerns in Ghana have also condemned the attacks, and urged the South African government to urgently put a foothold on the situation.
Some civil society organisation have also demanded that Ghanaians boycott every South African business locally , and have asked government evacuate Ghanaians from that country and to take drastic measures, including the expulsion of the South African envoy to Ghana until the situation is resolved.
In a related event Ghana Police Service has beefed up security at the South African Embassy in Accra with armed personnel guarding the premises with a fire tender from Ghana National Fire Service also on standby.
GNA