Flags to fly at half mast in honour of Mrs Theodosia Okoh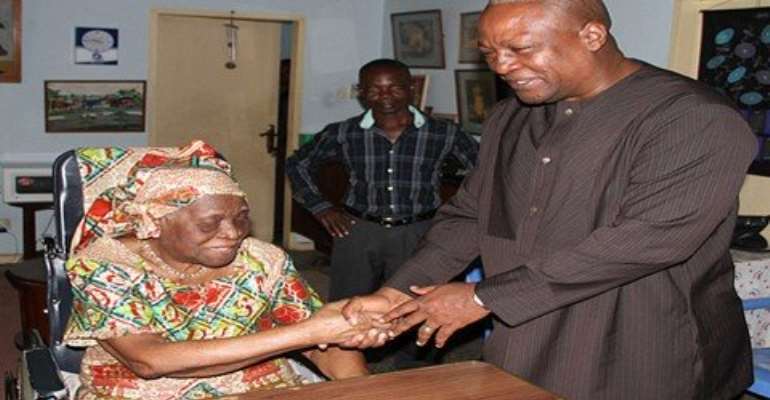 President John Mahama has directed that all flags fly at half-mast in honour Mrs Theodosia Okoh, the woman who designed Ghana's flag.
Madam Okoh died Sunday at age 92.
Astatement signed by Communications Minister Dr Edward Omane Boamah said "Government has received with profound sadness, news of the passing of Mrs Theodosia Okoh, a Stateswoman and designer of our national flag and extends its sincere condolences to her family.
"Government wishes to pay tribute to Mrs Okoh for her invaluable contributions to our nation building efforts. The instant recognition that our nation receives the world over through this flag has cemented her place in history as a colossus of Ghanaian history.
"Government also acknowledges her contributions to the development of sports in Ghana. She worked tirelessly together with others to promote and grow hockey in the country and will be sorely missed by all in that field.
"Her talent, zeal and sense of duty to Ghana will continue to serve as inspiration for Ghanaian and serve as a reference point in service to nation.
"In honour of this extraordinary Ghanaian, President John Dramani Mahama has directed that all flags fly at half-mast for three days starting from Tuesday,21st April,2015."