NACOB manhandles driver over false cocaine accusation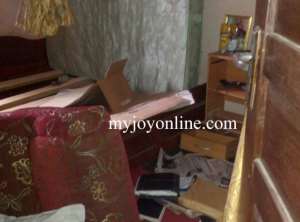 In what appears to be a case of lawlessness, a cab driver who claims he was physically abused, unlawfully detained and manhandled says he is so traumatised he is contemplating suicide.
Operatives of the Bureau of National Investigations (BNI) working for NACOB raided his room, turned it into a 'landfill', handcuffed him and his co-tenants all in a wild goose chase for cocaine.
Festus Akwaboah, a youth leader of the Christian Pentecost Church formerly Holiness Pentecostal Church, now has to deal with the stigma of being tagged a cocaine dealer; he faces eviction from his single room apartment; his mother is still struggling to recover from the shock; all thanks to NACOB's defective intelligence.
He was a poor man with dignity but that dignity has been taken away in the botched operation leaving him with the painful thought and reality about how to start life all over again.
His landlord has sent an emissary to put him on the alert that his tenancy which expires soon would not be renewed. The Landlord would not have a 'cocaine suspect' live in his tattered little house, nevermind Festus' side of the story.
Festus Akwaboah
He is wondering where to go when he is evicted from his Official Town residence.
The house is unfenced with about eight tenants. All the tenants in this modest slum dwelling share one bath and toilet facilities.
Festus, the cocaine suspect can only boast of a "3-in-one" sofa, an old fridge, a malfunctioning radio set, a fan, an old analogue TV, a desktop computer, some few clothes and a bed in a single room with a leaking roof.
Popularly known in the area as Pastor Ramzy, the young man, in his early 30s is yet to come to terms with the ransacking of his residence without a valid warrant and the cocaine tag he now has to deal with. He told Myjoyonline.com the invasion has caused him great pain, humiliation and a nightmare.
This is where Festus resides
"Why would someone come after my life? I said to myself thinking they were contract killers" Festus told myjoyonline.com narrating his first thoughts when three intimidating operatives of the Bureau of National Investigations knocked peremptorily on his door at dawn and threatened him to allow them access into his room or "regret the consequence" should they force themselves in.
Backed by heavily armed police officers, the three insisted and found themselves in his apartment without a search warrant. They searched and turned the whole room upside down and left but not after they chained Pastor Ramzy and his co-tenants and dumped them into police vans and sped off.
He was held for a night, interrogated for several hours and later left to go home with no explanation except a little advice for him to be careful about the friends he makes.
He now walks in the area completely humiliated with residents pointing figures at him as the cocaine dealer, he said.
HOW IT ALL STARTED
Narrating his ordeal to Myjoyonline.com, Festus said it all started when he received a call from an unknown person on Saturday March 28, 2015. He cut the call because the caller was telling him things he could not relate to, despite the fact that the person appeared to know him and addressed him by his first name.
On Sunday dawn, around 3:30am, the same number called him four times but he ignored, only to hear a violent knock on his door followed by an order to open the door.
"The person knocked like four times, I didn't respond and I heard 'Festus, Festus, I know you are in, come out," he recalled.
He said he hesitated a bit after seeing a stout man and two others when he peeped through his net from his porch. The menacing officers warned him not to retreat. His appeal to go inside and call other tenants on phone to bear witness was flatly refused, he told Myjoyonline.com.
CONTRACT KILLERS
"How can I open the door?...Let me go inside and pick my phones and call my co-tenants to come and witness, then one said if you don't know and you enter the room you will not like it, open the door," he narrated.
"I said boss I cannot open the door, in fact by that time I was shaking, panting. I thought they were contract killers, so my heart was beating so I said God am I going to die or what? Then the other guy said Festus don't force me to open the door, don't force me to open this door!"
With trembling feet and quavering voice, he asked the stern looking men to identify themselves before he would allow them entry but one of them brandished a card identifying him to be with Bureau of National Investigations.
CURIOUS MULTITUDE
As he opened his door to let them in, the men shoved him aside, locked his door and first asked him if he had any gun with him. They then handcuffed him and proceeded to put to him that they had information he was dealing in cocaine and immediately proceeded to rummage through his property. Convinced of their operation, the men ripped his computer apart, tore up his sofa (the only chair in his room), and tossed his mattress somewhere all in vain, searching for non-existing cocaine.
Not satisfied, they took his computer they ripped apart, phones (including old and unused ones), documents and other items and pushed him into a police van headed for the NACOB offices. The officers also picked Daily Guide newspapers in his room and questioned why most of the papers had issues concerning the infamous Nayele cocaine scandal. But he explained that the paper is his boss' favourite so he only brought the papers home after the boss had finished reading them.
He said when they brought him outside, the presence of the heavily armed policemen had attracted curious onlookers to the unfenced compound house, even at dawn.
GIRLFRIEND
As he was prevented from calling anyone on phone, he asked a female co-tenant called Felicia to inform his Uncle about the incident. This got Felicia also arrested.
"They said so far as she mentioned your name (in response) it means she is your girlfriend. Then they took the girl to her room and searched there too. So when they came out of her room, they said we heard that there is a guy from your hometown…I told them he is like a family brother so I showed them his room. And they went there whilst he was asleep with his wife, they didn't find anything but they arrested and handcuffed him."
When the two were contacted by Myjoyonline.com, they confirmed the incident but would not go on record because they said they do not want to encounter the dreadful incident again.
Felicia and Jeff were subjected to about 20 minutes of interrogation at NACOB offices separately. They were shown a picture of a man NACOB officials claimed is a Nigerian by name, Friday, whom they alleged has been dealing in cocaine. The NACOB officers accused Festus of colluding with Friday as his accomplice. But the two suspects denied knowing the Nigerian man.
PROVOCATION
Festus entered the interrogation room at the last floor of the NACOB offices and was grilled by six officials including two white men, he recollected.
When they were not getting any useful information from him, they intensified their intimidation.
"So the other white man used his leg to push the chair that I was sitting on and said 'look at me, don't f**king lie to me, don't provoke me, we know you deal in this business of [cocaine] with the (Nigerian) guy but you don't want to say the truth," Festus narrated.
The NACOB officials, he said, also declined his request to be taken to the so-called Nigerian drug baron for him to be identified by the Nigeria as his accomplice.
He spent the night at the NACOB cells.
"They took me away around 5am but it was not until 6pm that my Uncle brought me food. But they didn't allow my uncle to see me."
The following day, around noon he said he was taken to the offices of the Deputy Executive Director's in the presence of the Whiteman and others for another round of interrogation which lasted for about 20 minutes.
CAREFUL ABOUT FRIENDS
But later around 4:00pm he was asked to call anyone to bail him and he called his uncle who went and signed a bail bond and brought him out of the snare of NACOB.
When he was asked to go home, he wondered and enquired why he was not taken to the Friday guy, "but the police man said hmmm that is how the world is oo, so just thank your God that you are free, and the other woman said I should be careful about my friends."
The next day which is Tuesday, he reported and was given his computer that they destroyed during the frantic search for the 'missing cocaine', his mobile phones, other property and documents.
The two others who were arrested were released the same day.
SPIRITUALLY AND PHYSICALLY AFFECTED
Festus who works with a construction company as a driver stated that the arrest "has affected me spiritually, physically, I mean everything. They have spoilt my chair, my computer, my mother is sick, at the same time my rent has also expired. Where am I going to get the money…? That is the problem I am thinking about now.
"Even when I go to work my colleagues who were free with me then look at me now. [They] only respond to my greetings but nobody wants to come close to me. So now when I close from work I just come and sit in my room and I just feel bad. Sometimes I want to commit suicide because it has affected me so much."
NACOB'S FAILED REACTION
Myjoyonline.com made several attempts for weeks to get NACOB's side of the story but they would not comment. When Myjoyonline went to NACOB's headquarters the Public Relations Officer he assured he was going to speak to the investigator involved in the case and furnish us some information on the matter
After a while he said he was preoccupied with an event NACOB was organising and reassured he was going to answer our questions but he never did so.
After several follow-ups, he told me he was on leave and that he had assigned a different person to attend to answer the questions.
The story never changed as the new person also failed to answer the questions.
In the meantime, Festus is left broken, frightened, maligned and licking his wounds.
Story by Ghana | Myjoyonline.com| Isaac Essel | [email protected] | twitter @isaacessel