'South African Killings Is Wake- Up Call'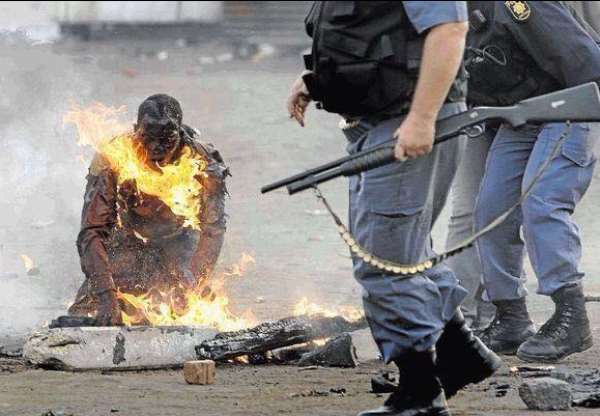 The founding President of Youth Icons Ghana, Nana Yaw Osei-Darkwa, has said that the ongoing killings in South Africa should be a wake-up call to the rest of Africa, calling on African leaders to consider making significant investments in peace campaigns.
According to him, 'What is happening in South Africa should be a wake-up call to the rest of Africa. I believe that the entire continent of Africa is missing one great point where leaders of Africa must come to the realisation that peace cannot be wished for and that we need to invest in the peace architecture of our countries.'
So far five Ghanaians are said to have died in the unprovoked xenophobic attacks.
Foreign Affairs Minister Hannah Tetteh, in a facebook post, however stated that 'Our Embassy in South Africa reports that four Ghanaians'a man, two women and a baby' were found dead in a salon in Heibron in Free State in South Africa. Our Embassy further informs us that information from the South African police confirms the deaths but the cause of death cannot be immediately ascertained.'
Reacting to the xenophobic attacks, Osei-Darkwa observed that the happenings in South Africa are as a result of what he described as 'some systemic failure which countries like Ghana must learn from and immediately put in place measures to ensure that such things do not happen.'
'I am saying this because the world today is more of a world-house; the era where it was difficult for people to move from one place to another has passed. We now live in a big house where all humans are neighbours. So first and foremost, we need to educate our masses to appreciate the world-house concept and to appreciate the fact that people will keep moving from one place to another in search of greener pastures,' he added.
He stressed the need for African governments to institutionalise non-violence education, adding, 'It is easy to condemn and to say that this is crazy and use all the adjectives you know. But what are you doing to ensure that this doesn't continue?'
According to him, what is happening in South Africa could happen in any African country, and that for Africa to attain its renaissance status, its leaders need to champion the concept of non-violence and peaceful co-existence with persons from different geographical and social backgrounds.