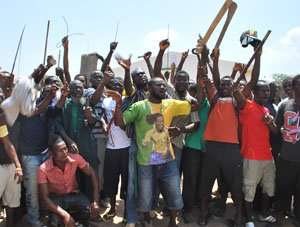 The recent inhuman attacks on black immigrants in South Africa is worrisome and calls for a serious attention. In fact, media has generally described the attacks as xenophobia. But, critically analyzing the manner and form the attacks is taking in my opinion can best be described as "Afrophobia" other than the xenophobia portrayed generally by the media.
All the time the question "why Africa?" keeps coming but answers to that is yet to be provided.
It is truly counter-logical and totally incomprehensible why South Africans would choose to wage attacks not on foreigners but specifically African foreigners in South Africa. Lives are taken, properties are unlawfully confiscated by citizens ( stolen in clear terms), People are severely beaten and others wounded, people are chased out of their homes and the worse part is the heartless broad day burning of humans.
Reasons for that? that the African immigrants are occupying their land and have taken away their opportunities; some even said it is the foreigners who have rendered them unemployed by taking jobs that were meant for them. Those are the cheap reasons they can only give to defend their senseless behaviors.
That is not even my concern. my concern is the double standards nature of the attacks. There are equally an unimaginable number of white immigrants in south Africa. Why wasn't any of them (not even a single one) attacked? Why wasn't any of them threatened to leave their homes? why wasn't any of them given the same treatment as meted out to the African immigrants?
You see the hypocrisy of "the African man"? The white men who operate cafe shops, supermarkets, hotels, groceries and many more are not seizing their opportunities right? White foreigners who even cheat them in their rich gold resources are not included in those seizing their opportunities right? Yes! that is the ignorance of African man.
Now lets take a look at this common statistics:
these are just a small percentage of south Africans living in diaspora as at 2015:
Australia-145683
United kingdom-141405
United States-----82054
New zealand---54279
Canada---38305
Qatar-----5000
Argentina----300500
(source:wikipedia)
The above figures and of course other countries including many African countries are hosting countless number of south African emigrants. Thousands of south Africans are making their living in other countries across all the four corners of Africa. They can never deny this!
Assuming all countries would want all foreigners repatriated, you can guess what happens.
I thought South Africa would have been the last country to entertain these acts of xenophobia. You remember the apartheid right? yeah that was in South Africa.
They have to hide their heads in shame (that's even when there is still some to hide) for these heinous crimes perpetrated. We thought that was supposed to be the most advanced country in Africa and therefore the last to record this shameless acts.
About five people have been reported dead since the violence started a fortnight ago. I sympathize with the families of the victims. May they have the hearts to bear that pain. I wept bitterly in my heart when i mistakenly opened one of the videos that people are being tortured and burnt in Durban.
Very pathetic that even President Jacob Zuma's son is part of this conspiracy.
This does not really speak well of us as a people of Africa. This is without doubt another great bomb of mockery that has been dropped. But South Africa MUST pay dearly for it. The hash tag continues in the western media. We are the cause of our woes! It is said that "when the youth are undisciplined or violent, there is definitely something wrong with leadership Oga Zuma! This is not an issue of mouth licking; DO something!