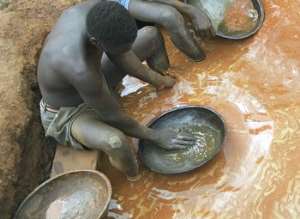 Accra, April 17, GNA - The practice of Artisanal and Small-scale Gold Mining (ASGM) is increasing worldwide due to the rising price of gold, the proliferation of larger mines, and widespread poverty.
A report by the United Nations Environment Programme has estimated that gold from small-scale miners may represent 35 per cent of the world's output, while an estimated 13 million people work in ASGM, of which about 100 million depended on it for their livelihood worldwide.
It is also estimated that more than 100 million people globally depend directly or indirectly on artisanal mining for their livelihoods.
The UN Economic Commission for Africa in 2011 reported that in Ghana alone, an estimated 1.1 million people directly worked, mostly illegally in ASGM activities, representing nearly two-thirds of the country's total mining labour force.
It said the proportion of Ghana's gold that was mined through ASGM had increased from six per cent in 2000 to 23 per cent in 2010, because it had become the primary means of survival source of livelihood for most communities.
The benefits notwithstanding, ASGM had been associated with numerous social, health and environmental concerns, and as part of efforts to minimise the negative impacts of the activities, a project was started in 2012 to conduct an Integrated Assessment of water sustainability, infrastructural inequity and health in small-scale gold mining communities across Ghana.
The project, which was funded with a grant from the University of Michigan Graham Environmental Sustainability Institute, brought together researchers from the United States of America and Ghana, to ensure a successful take off and completion of the project.
The Science and Technology Policy Research Institute of the Council for Scientific and Industrial Research has scheduled a stakeholder workshop to share findings and preliminary recommendations with key stakeholders.
This would help get their inputs for the development of evidence-based and realistic strategies to improve sustainable water access and quality in the context of small-scale gold mining in Ghana.
GNA