Who Dispenses The Drug You Consume?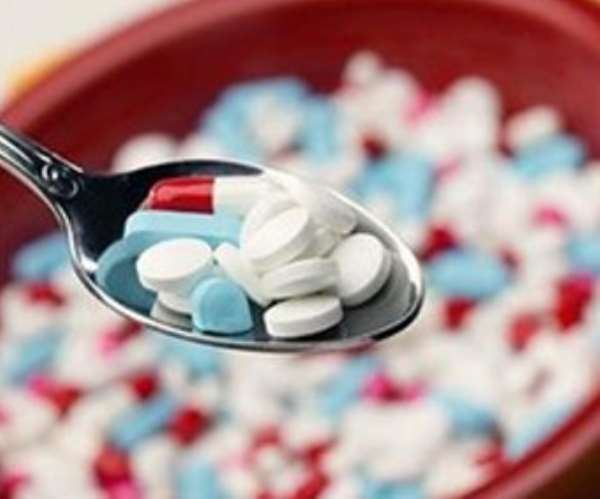 Drug or pharmaceuticals are paramount in building a robust healthcare delivery. Drugs, including vaccines are useful in preventing health, promoting and managing diseases. However, it equally has its negative side when they (drugs) are used inappropriately or prescribed wrongly.
Apart from the healthcare facility settings, have you ever paused to know the professional dispensing your over the counter drug you consumed recently? Have you had education on the dosage of the drug you purchased recently? Well, you may not be too much of a victim on the latter, because you probably can read the information on the label. What about drugs that have no labels on them? What about others who cannot read?
The inappropriate use of drugs in Ghana is gradually gaining grounds, especially in our underserved/rural communities. Carefully observing the phenomenon over the years, the practice has been that, consumers purchase and use drugs wrongly. Could the consumer be blamed so much for this development?
Whose responsibility is it to ensure that the appropriate dosage or usage of a purchased drug from a pharmacy or a chemical shop is communicated to the consumer? Whose responsibility is it to ensure that consumer protection on drug purchase and consumption is not overlooked?
I am not really against the recent proliferation of pharmaceutical and chemical shops across the length and breadth of this country, because I believe it contributes significantly in our effort to making healthcare accessible to all manner of persons - geographical location, economic status etc. On the contrarily, the issue of who acquires the license to operate a pharmacy or chemical shop and who dispenses the drugs at various pharmacy and chemical shops is really my concern.
There are countless pharmacy and chemical outlets in Ghana that have their dispensers untrained/unqualified, had no training from the pharmacy council or what so ever, but dispense drugs anyway. I lost count of the number of chemical shops in our communities where I had purchased over the counter drugs without being told how to use such drugs. Majority of these dispensers also serve drugs (exposed tablets and capsules) with their bare hands, instead of using the spoon. The possible conclusion I draw from that worrying situation is that, is either the dispenser is not qualified to dispense drugs, or he/she is a certified dispenser, but fails to do the right thing because someone within the system is not keeping these dispensers on their toes to do what is required of them.
For the purpose of this write-up, my investigations revealed that, in most parts of the country, especially sub-districts and deprived communities, minors (children), some under the age of fifteen (15) dispense drugs at chemical shops, belonging to their parents - this is worrying.
According to one of the requirements of the pharmacy council, it is required of all pharmacies and chemical shops to display their licensed certificates in their shops, in full glare of clients who visit the shop. It is also required that sign posts are also displayed at the premises of all pharmacies and licensed chemical shops. Surprisingly, most of the chemical shops fail to meet that requirement; they don't display their licensed certificates at their shops, and some don't have sign posts at their premises. The question is, if they are really certified, why will they deliberately hide such requirements?
We have gotten to the era where you only walk into a pharmacy or chemical shop; purchase a drug from whoever that is dispensing without any education on how the purchased drug is used. For me, I think the phenomenon is fast assuming how things are done at the supermarket.
And when are we waging the war against drug vendors? Does the pharmacy council issue license to people to go from one community to another in sale of drugs? I had interviewed about six (6) of such people who engage in this business - drug vendors, at different locations in Ghana. They all had documents from the pharmacy council, certifying them to sell category C drugs (Over the counter drugs) at a particular location. Deviating from their mandate, they usually package some of their drugs from their shops into a box, travel several kilometers to different locations to sell these drugs to other communities. It is a good thing to extend pharmaceutical services to the less privileged; in deprived communities, but the condition under which such drugs are transported is nothing to write home about. They travel on deplorable roads, running into countless potholes, grinding most of the tablets in the process; and exposure of the drugs to a lot of sun rays is also not left out. Under such conditions, can the safety, efficacy and the quality of the drugs be guaranteed to the consumer? The popular inscription I usually read on most labels on our drugs is: 'Keep in a cool dry place..' Guidelines on drug storage and distribution are seriously been undermined in an attempt to increase access to pharmaceutical services.
Self-medication and irrational use of drugs have also become very lucrative among Ghanaians as a result of the above development. It happens in our cities and towns, but in our rural communities, self-medication is incomparable. Most of our rural folks depend on self-prescribed drugs, almost every day. Due to the physical activities they engage in. The class of drugs commonly abused among them is the analgesics or antibiotics - one called 'IBU-CAP (TAB)', tops the list in farming and fishing communities. Of course, few investigations done among head porters, popularly known as 'Kayayee' in Accra and Kumasi also revealed that self-medication is highly practiced among them. The class of drug abuse among them is also the analgesics - IBUCAP, Diclofenac, Paracetamol, among others.
In certain situations, prescribed leftover drugs prescribed for a patient at a healthcare facility is sometimes shared among households, like biscuits and chocolates.
If the pharmacy council, Ghana Health Service and other stakeholders do not wake up to arrest this situation now, massive drug resistance among the public is what we may be battling with as a nation, in future. Sometimes, enough rest after a hard day's work could relieve one from a mild migraine, but because of lack of information on the harmful effect of long dependence on un-prescribed drugs, we will usually go in for such analgesics (painkillers). Quite apart from the future drug resistance that may crop up, over dependence on drugs could also place undue pressure on our liver, giving the liver more tasks to accomplish, hence the liver always having to get rid of toxins from consumed drugs - liver damage may result from that.
Is the pharmacy council inspecting community private clinics, pharmacies and chemical shops to enforce laid down standards of practice among various drug outlets?
The pharmacy council, Food and Drug Authority, especially, must wake up to address this serious public health concern. The safety of the entire public is at risk if we have chunk of unqualified personnel dispensing drugs to the public, and the proper conditions under which drugs should be stored and transported are undermined. Drug resistance must not be allowed to gain grounds among us; if it does, the cost of tackling it would be more than making deliberate efforts to preventing it now. Massive education to the public on rational use of drugs is one of the strong measures the institutions involved could adopt to curb the situation.
Long dependence on un-prescribed drug is harmful to your health, and injurious to your liver.
Choose preventive health. Stay healthy.
Author: Gbolu Mawuli Samson,
Executive Director/Founder,
PHAN-Ghana.
Email: [email protected]
Phone: +233 241115660