40 Killed In Road Accidents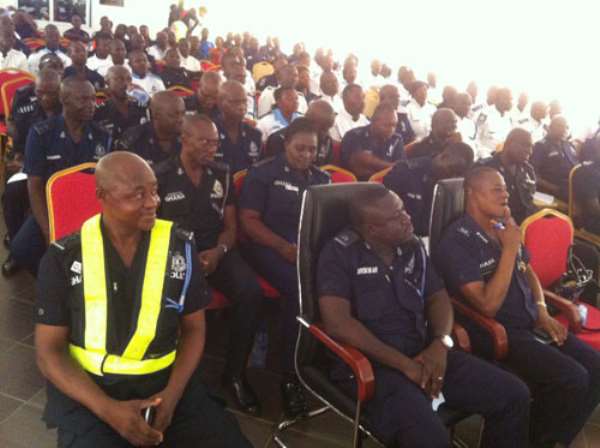 Section of the policemen that attended the workshop in Kumasi on Thursday.
A Total of 40 people have lost their lives and 309 others have sustained body injuries through 288 road accidents which occurred in the Ashanti Region during the first quarter of 2015.
During the same period under discussion in 2014, 58 lives were lost, with 388 other people sustaining various degrees of injuries in 373 vehicular accidents recorded in the region.
Supt Frank Aborakwa, the Ashanti Regional MTTU Commander, who gave the statistics, expressed delight at the sharp reduction in the number of fatalities recorded on the road this year, as compared with 2014.
He attributed the sharp decline in road deaths in the region to the activeness of the police on the road and efforts of other relevant bodies, stressing that there was room for improvement.
Supt Aborakwa was speaking during the opening of a one-day seminar on Road Safety Regulations and Enforcement for MTTU personnel in the Ashanti Region. It was held at the Mohammed Alhassan Conference Hall on Thursday.
Organised by the Ashanti Regional Police Command, the educative programme was geared towards educating the MTTU personnel so that they would be efficient and more productive whilst working on the road.
Bismarck Boakye, Ashanti Regional Manager, Road Safety Commission, charged the MTTU personnel to be abreast of the road laws in the country so that they would be effective in the discharge of their duties.
He particularly mentioned the drinking of alcohol by some drivers as one of the leading causes of road accidents, sternly cautioning drivers not to drink whilst they are behind the steering wheel.
Mr Boakye also cited over speeding and excessive loading of cars as some of the causes of accidents which result in deaths and injuries. He commended the police for working to ensure discipline on the roads in the Ashanti Region lately.
ACP Ampofo Duku, the Deputy Ashanti Regional Police Commander, admonished the MTTU personnel to always be disciplined and work efficiently in order not to create inconvenience for drivers and commuters.
FROM I.F. Joe Awuah Jnr,. Kumasi